TIKI!
The new Portland location of SquirrelFarts HQ came with a "sun room" which is currently being converted into a tropical tiki room. Not that I'm really that into tiki stuff, but it is fun from time to time. Especially since it's been way too warm here, and put me in the mood for equatorial style drinks. Yeah, it's going to be real fun looking back on this post in February when the snow drifts block out the sun. But for now, we're in the middle of a summer downpour and it feels very tropical in here. And moist. Very very moist. Rainforest humidity.


So the Lady Friend made herself a Bajito, which was a Mojito with some basil muddled in. Decently tropical, but I've gone and done something silly. I got me a Trader Vic drink to make. In case you don't know, "Trader" Vic Bergeron, was one of THE big tiki guys back in the day (he started in the 1930s) and grew his business to a franchise chain of tropical-themed restaurants. He claims to have invented the famous Mai Tai, though fellow founding tiki tippler Don the Beachcomber might argue that point.
Anyway, there's a LOT of tiki history there that I don't really want to get into, because everything is sticky with moisture and I'm thirsty. I got this recipe from Liquor.com, in a Valentine's "Cocktails Built for Two" themed article. But since the Lady Friend is already sipping on her Bajito, after I taught her proper muddling techniques and unsuccessfully tried to crush some ice in a blender (didn't work… resorted to the good ol' "smash it with a hammer" method) I'm going to drink all of this myself.
Also, I'm selfish. And I don't care who knows it.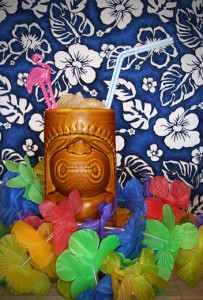 Tiki Bowl
Makes two, but if you drink it all yourself, I certainly won't judge.
From "Cocktails Built for Two" on Liquor.com
– 1 oz light rum (they suggest Puerto Rican, so I used DonQ)
– 1 oz dark rum (went with Meyers here)
– 1 oz brandy (E&J is great for mixing)
– 2 oz fresh squeezed orange juice
– 1 1/2 oz lemon juice
– 1/2 oz orgeat
Throw everything in a blender with ice and hit the loud button. Pour your frosty bev into a hurricane or some sort of tropical tiki glass. Garnish with a gardenia if you happen to have one of those lying around. I didn't, but made it work.


Well. It's frosty and tasty looking. A nice orangy yellow color. Smells like fruit juice and booze. The brandy comes through quite a bit in the nose, though that could be the dark rum as well… whatever it is, it smells dark, syrupy, and tasty. It tastes orangy, which makes sense, though again the dark rum/brandy combo adds some happy dim warmth in there. I keep sucking Lilliputian icebergs into my straw which clogs the whole works. The downfall of a budget-brand blender I suppose. Still, the drink is tasty, though I put a bit too much ice into it. It hurts my teef. Tropicality achieved!


I even gave some to the Lady Friend.