Ah, the first official Rule 37 in the new Portland, Maine SFHQ!
This one started with a previous Rule 37 involving both brandy and rum. The Bacardi used in that one was completely underwhelming, but it did make me think of the possibilities between the two spirits. Now that my Bully Boy was back in my rummy little hands again, it was time to make a summery drink to combat the moist horror of early July.
So, we've got a variation of a Daiquiri. It's kind of like Between the Sheets and/or the Boston Sidecar, but both of those use triple sec, whereas I went with (raw) simple syrup as the sweetener here. My thinking was to start with a Daiquiri base and add brandy, rather than start from a Sidecar and add rum (which is a Boston Sidecar). I'm sure this one has a proper name somewhere, but I couldn't find it. If you know what this drink actually is (besides awesomely tasty) let me know. But until then, I'll just call it a Portland Daiquiri, in honor of the new digs.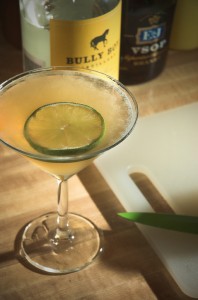 The Portland Daiquiri
– 1 oz white rum (Bully Boy)
– 1/2 oz brandy (good ol' E&J)
– 1 oz fresh lime juice
– 1 oz raw simple syrup
Mix em together, shake good and hard. Serve in a chilled cocktail glass with a lime wheel float.
In case I haven't mentioned it before, to make raw simple syrup (excellent with most rum drinks) just mix one part raw sugar with one part hot water until the granules dissolve. It adds a lot more depth to your sweetener, and is even healthy!*
*Dude, it's probably not healthy like at all, but still, likely better than the bleached, refined white sugar.


So, it noses with the characteristic Bully Boy bouquet of sugar cookies and sunshine up front, but a syrupy sweetness underneath. Yum.
The taste? Oh, that's good. Dark and sweet. The Bully Boy is of course at the forefront, but there's a dark, alluring sweetness underneath.
The brandy really helps create some new flavors, with a hint of syrupy grape, almost a raisin quality. Though it's tasty, I'd love to add a touch more brandy to see what happens. This is miles away from the silly Bacardi cocktails of the past few Rule 37s. There's almost a syrupy, slightly mouthcoating texture, with a fresh lime tart to keep it from getting out of hand. It's just not quite what I wanted. This one slides down a little too easily, and could stand to be a bit more boozy. I think I'll give it another try while upping each spirit by double.


The Portland Daiquiri #2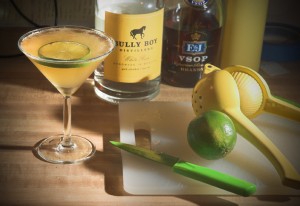 UPDATE: New recipe.
– 2 oz white rum (BBoy)
– 1 oz brandy (E&J)
– 1 oz fresh lime juice
– 1 oz raw simple syrup
Uh, yeah. Do what you did before. Shake it all up, strain into a chilled cocktail glass. Plop a lime wheel in there. Drink it.




Ok. Certainly boozier, but not unpleasantly so. There's still plenty of flavor from the BBoy, and that dark syrupy grape from the brandy comes to play as well. The two get along quite well, with lime and raw sugar rounding it all out. This is MUCH more enjoyable. The first version was simply too sweet. Well, actually, the first version was quite tasty, but it needed more of a kick to get it into a better flavor balance. Upping the booze content is one option when dealing with a overly sweetened drink, and in this case it paid off. Of course, you COULD simply use less sweetener, but I prefer adding more booze.
The Lady Friend gives this version her approval saying: "This one is much better balanced. You can appreciate the different spirits in it for what they are."


Yeah. Try the second version. It simply works better.