Well, after a busy week, I was left scrambling for a Rule 37 on Friday night. Dale DeGroff's The Craft of the Cocktail happened to be lying nearby, and as my tried-and-true standby recipe book, it didn't let me down. If I'm not careful, I might wind up documenting the entire book. It's not my fault! It's full of great drinks. This week's tipple might not have been the most unusual concoction, but it was still mighty tasty.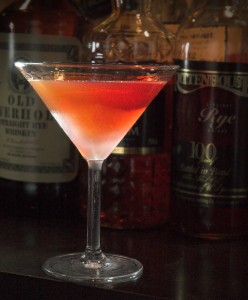 The Waldorf
– 2 oz rye or bourbon whiskey (Rittenhouse Rye)
– 3/4 oz sweet vermouth
– 1/4 oz Ricard (Pernod)
– 2 dashes Angostura bitters
Swirl the Ricard, or Pernod, or whatever anise flavored concoction you plan to use (I'm sure real absinthe would do just fine as well) in the mixing glass. I say swirl, but it works better to tilt the glass at an angle, and rotate/turn, which rolls the liquid around. The goat is to simply coat the inside of the mixing glass with the anise liqueur. This differs from other recipes I've seen, like a Sazerac, where you coat the drinking glass. Here, you're only coating the mixing glass. Add ice, and pour in the other ingredients. STIR, strain, and serve in a chilled cocktail glass. No garnish specified, but I'd likely add a nice cocktail cherry, as with a Manhattan.


So, yeah. It's basically a Manhattan with a Ricard rinse. Don't discount that too much; it makes a big difference.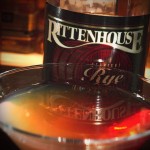 I was feeling fancy, and falling behind the Lady Friend in the drink count, so I jazzed up the recipe with my treasured 100 proof Rittenhouse Rye. I had seriously considered using the Old Crow Reserve bourbon, which came highly recommended from Drinking the Bottom Shelf writer Will Gordon, and he's dead on. It's stupidly inexpensive, and stupidly tasty. $13 bourbon shouldn't be that good. I've come to enjoy it enough to hoard and stockpile reserve supplies, and recently acquired a large surplus which should keep me happy for a reasonable length of time, if I don't quaff it in an unreasonable manner. Which can happen. Frequently. However, the Rittenhouse is one of my all-time favorites. Big, bold, 100 proof and spicy rye, versus a sweet sweet bourbon. It also gives me a good benchmark, since I'm quite familiar with how a Rittenhouse Manhattan should taste.


Nose: Spicy rye bite, with a touch of vermouth sweetness. The anise of the Pernod shoves its way through, full of licorice and shenanigans. The Angostura adds its dark spice, and between the rye and Pernod, there's a weird little aroma dance going on. It almost smells Christmasy.
Taste: Cool, then suddenly warm. Not hot, but warm. The rye spice is tempered by the vermouth, and strangely offset by the anise flavors. Rinsing the glass made a HUGE difference. Angostura is there, laughing in the background, cheerful and cinnamon spice. It's almost as if the hot rye and cool anise are magnetic opposites, and they have a little battle for control of the taste buds. It's the tastiness of a Manhattan, but with a new player to the game. The Pernod engages in a tug-of-war with even the power of the Rittenhouse. I wanted to put "Rittenhouse Powerhouse" but it was just too much.
The Lady Friend declared "Yup. Pernod." upon smelling it, then furrowed her brow as she took a sip.
"I taste the Rittenhouse up front, which is tasty, then Pernod in back. Rittenhouse comes back. It's good. It was a good little sip. It's interesting." She usually can't stand my high-proof rye Manhattans, so this one was tamed down enough for her to taste, though there's still plenty of flavor. It is indeed an interesting palate experiment, and a great twist for a Manhattan lover. Try one.