The Monday Hangover:
Other drink adventures of note from the weekend.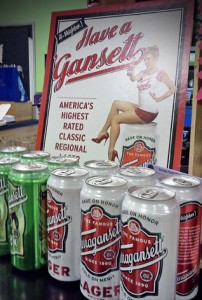 Well, the weekend started off right with a stop at Bin Ends on Friday to hit up the Narragansett beer tasting. Brent, the Boston sales manager, was pouring tall frosty cans of the Bock, Cream Ale, Summer Ale, and classic Lager. This is the first time I've been able to taste a range of 'Gansetts side-by-side, and the Bock is still my least favorite of the group. I just don't like the Nobel Hop sweet-yet-sharp flavor of most bocks. It's not the brand; it's the style I don't really enjoy. The reviews have said that Narragansett's offering is bang-on for the style, so if you like bocks, give it a whirl. My favorite is still the Porter, which is deliciously chocolaty and great value for the price, though they didn't have any at this tasting. I've got a horde of it back at SquirrelFarts HQ. The Cream Ale is refreshing, the Lager a great go-to with a bit more flavor and character than most macrobrews. The Summer Ale is also a great default beer. It's a touch lighter than the lager, and flavored with Citra hops, giving it a lovely hint of fruit, but it's not overly lemony like many other summer beers. A welcome change in my opinion.
The tasting was just the thing to finish off a long soggy work week, though by Friday the weather had cleared to a sunnier attitude. A little taste of Gansett, and a chat with Brent, primed me for weekend mode, especially with a little giveaway. You had a choice of a beer coozie or a Gansett pint glass with purchase of a six pack. It just so happened that my fridge could use a little more Gansett Lager, and I was just lamenting the fact that I didn't have a proper Gansett glass a few weeks ago.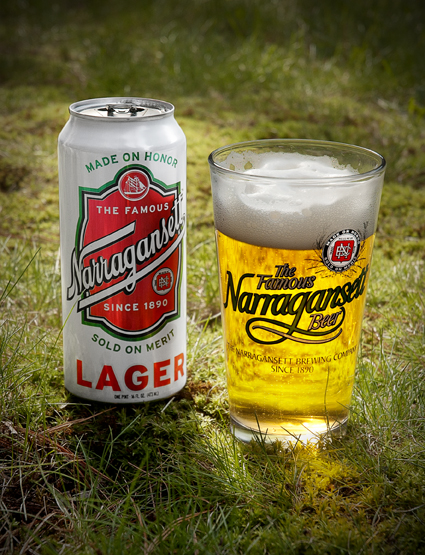 Total score. Hi Neighbor!


This, of course, was all just the warm up round. When the Lady Friend joined me back at SFHQ, it was weekly Rule 37 time. The novelty of this week's drink, simply called "Windex," was its bright blue color, and I played around with some alternative lighting techniques, using long exposures and a bit of light painting. After cocktails, it was time for dinner, beers, and Mad Men, since the Lady Friend makes me wait all week "so we can watch it together." We tucked into a Bear Republic XP Pale Ale, which very similar to Avery's IPA, a West Coast malty brew with a dank hop. Tasty, but I've moved away from malt heavy beers. Time for bed. Big day in the morning.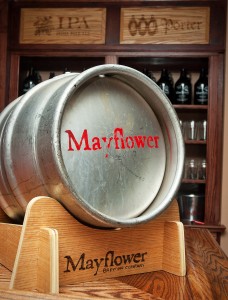 The big day in question was a trip down to Plymouth for Mayflower Brewing's third annual Open House. Since our first visit to Mayflower at their open house LAST year, the Lady Friend and I have been several more times, generally to sample each of the seasonals, and I've gotten to know some of the brewery staff. We met up with a small group of friends and repeatedly sampled Mayflower's brews, all while giving Sarah, the retail manager, as much flack as I could muster. Don't worry… she throws it right back. I got to meet Drew, the owner/founder, and even played tour guide to my group in a very glossed-over version of how beer is made.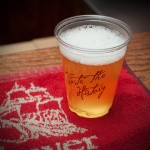 The open house doubled as the release party for Mayflower's summer seasonal, a Summer Rye beer. This year's batch had a slightly farm-like earthiness, with some faintly sweet hop underneath. While chatting to Drew, he explained that it was a Belgian yeast that added the slight farmhouse qualities. The taste had a carbonic bite, as compared to the cask version (I'll get to that in a second) with a bitter snap from the rye grain used, and a slight lemony fruity flavor, though this was likely due to the Belgian-y qualities of the yeast, since there isn't any fruit in the brew. Overall quite tasty and refreshing. However, they had a special version offered for the party: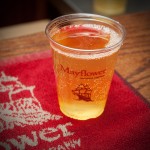 Summer Rye Cask (2012) Open House special.
Dry hopped with Citra and Sorachi hops.
Nose: Sweet tree fruit hoppiness. Certainly Citra. It's got that West Coast nectarine essence.
Taste: Oooh. Citra! Tasty. Tree fruit tart, mouthwatering. There's a bit of a rye bitter snap to the finish. Very nice. Drew thought it was a bit more flat than he wanted; you lose a lot of carbonation with the cask conditioning. Nice and smooth, and excellent flavor. Citra dominant, but I love Citra.


A good time had by all, and we walked away weighed down with another case of tasty Mayflower brews, much to the delight of the Lady Friend. Time for further adventures, however. Since we had taken the trek down to Plymouth (seriously, it takes FOR-EV-ER to get there. Stupid Rt 3.) we made the most of it. The first stop was the East Bay Grille for some brews and pizza. Bacon and scallop pizza. Which was great, minus the scallops. I don't like ocean slug creatures getting in the way of my tasty bacon. Anyway East Bay has a nice view of the water, if you look past the parking lot, but it's kind of overly-fancy and up its own backside with snobbery. Like Marina Bay or most places on the Cape. Their version of a Jack Rose was worth documenting.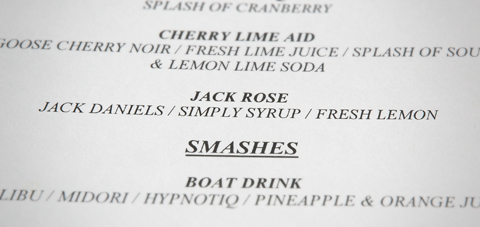 Not even close.


This annoys me almost as much as typos on menus. The Jack Rose is a classic cocktail made with applejack (apple brandy), lemon juice, and grenadine. It's delicious. The abortion at East Bay is simply a whiskey sour, and a lousy one at that. Someone saw "Jack" in the name and made a jump. Do your homework, clowntards.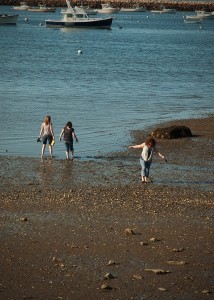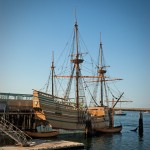 From East Bay, it was a short walk down the coast to that big Plymouthy rocky thing, and past the boat named after Mayflower Brewery. For some reason, the female members of the group thought it'd be a great idea to walk through the rocks and mud of low tide and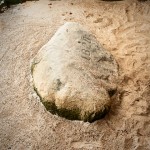 dip their feet in the harbor. Have fun with that. With their newly-mudded feet, we hoofed it up the hill to Main Street and into New World Tavern, recommended to me by one of the Mayflower staff for the craft brews on tap. It turned out to be a great place; as we sat down, the server said "Here's our draft list, double-sided." Awesome. The list was indeed impressive, and I certainly recommend it. We didn't see that they offered flights until putting in our order, and I wound up with a Bear Republic Racer X dIPA. So good. The Lady Friend and I followed up by splitting a Cisco Brewing (Nantucket) Moor Porter Nitro, which was just the right beer after the heavily malty and hoppy dIPA. Smooth, creamy, and delicious.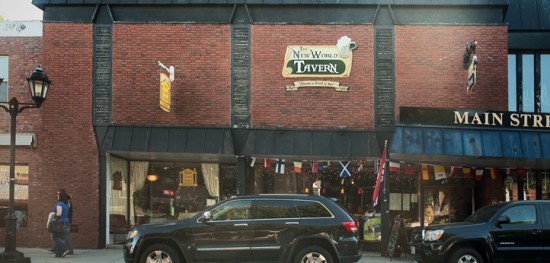 A whole new woooooooorld…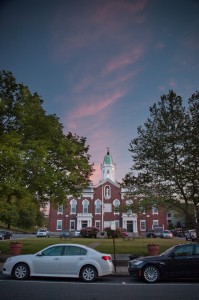 New World was great, but I was also told to hit up the Driftwood Publick House (be sure to check out the Photoshopped "Neon Edges" filtered photo on their website. Looks like someone just got Pshop Elements for his birthday). However, due to the small space, it was somewhat jammed when we got there, incredibly loud, and the waitstaff didn't seem to know what to do with us. So we bailed and retreated to our fallback position at the British Beer Company. Luckily, there was enough space to establish base camp upstairs in the lounge, and we all chatted amicably, though growing in volume and intensity as the beers disappeared into our gullets. I satisfied myself with Left Hand's Milk Stout, a wonderful nightcap, though I can't be sure if it was the nitro version or not. Milk stouts are generally creamy and smooth to begin with, so it's not easy to discern the usage of nitrogen bubbles. It was delicious either way.


Each time I glanced at my watch, another hour had magically vanished, so we eventually packed up and headed back down to the water. The Lady Friend managed to drink herself into a feeling of discomfort, but made it home without incident. This is why we drive HER car. Another successful weekend of drinkitude. If only I could write these posts faster. Pretty soon they're going to start lapping each other.