This week's Bacchanalian bounty comes courtesy of 12 Bottle Bar, a post from about two years ago. The Fitzgerald is, essentially, a gin sour. Apparently created by legend Dale DeGroff, 12 Bottle got the recipe from DeGroff's OTHER cocktail book, The Essential Cocktail: The Art of Mixing Perfect Drinks. If I owned that particular tome, I likely would have made this one long ago, as I am generally a fan of sours. Sours are a certain family of cocktails, like slings, cobblers, flips and collinseses. The sour is a mixture of spirit, sugar, and citrus juice, usually in similar ratios, and is one of the most popular styles of mixed drinks. Here's a few examples:
Whiskey Sour: whiskey, simple syrup, lemon juice
Daiquiri (Rum Sour): rum, simple syrup, lime juice
Margarita (Tequila Sour): tequila, triple sec, lime juice
Sidecar (Brandy Sour): brandy or cognac, triple sec, lemon juice
Kamikaze (Vodka Sour): vodka, triple sec, lime juice.
Pisco Sour: pisco, simple syrup, lime juice, egg white, Angostura bitters
Traditionally, a whiskey sour also contained egg white, which gives the drink a frothier, creamier mouthfeel, though I don't really care for it.


So, the Fitzgerald is a gin sour, with some Angostura bitters added in. Here's how to make it: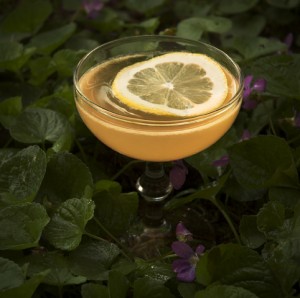 The Fitzgerald
– 1 1/2 oz gin (Bombay London Dry used)
– 3/4 oz lemon juice
– 3/4 oz simple syrup
– 2 dashes Angostura bitters
Shake with ice, strain, and serve in a cocktail glass. Float a lemon wheel as garnish. Sip quietly among the violets whilst contemplating the Violet Hour.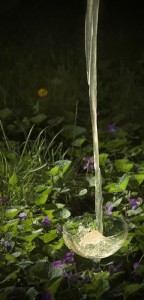 The two dashes of Angostura give the liquid an orange hue, rather than the usual pale lemon yellow sour. The nose is rather gin-y, with a botanical perfume wafting up from the surface, despite the lemon wheel lazily drifting about the coupe. There is a slight Pledge quality from the citrus, though the gin certainly dominates the aroma.


The taste is a lovely floral mixture of gin and lemon, but sweet. After being spoiled by tasty Rehorst Gin, I find the Bombay London Dry to be a bit on the perfumey side, like funeral homes and plug-in air fresheners. It's certainly a lemony drink, and the Angostura lends a much-needed dark spice to the background. Without the bitters, this would likely be too sickly-sweet, but the cinnamon clove zest of the Angostura certainly livens up the party. It's quite nice, but I'd like it better with a different gin and an extra dash of bitters.