It's warm again. Like way too warm. Much warmer than mid-April should be. Seriously, it's either 40 or it's 80. Quit foolin around.
So we've got another tropical-sounding drink for this week: Dale DeGroff's South Beach. Yes, he invented it. His book says so. Also, the heat is making me cranky, so don't argue with me, whippersnappers.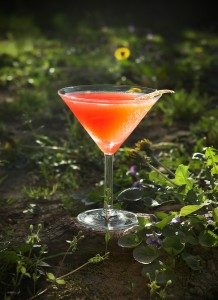 South Beach
From Dale DeGroff's The Craft of the Cocktail. Dale sez "I created this one for the Paddington Spirit Distributors Company in 1992 to find Campari cocktails that were less bitter and would appeal to the American palate. This one worked."
– 3/4 oz Campari
– 3/4 oz amaretto
– 2 oz fresh orange juice
– 1/2 oz simple syrup (optional)
Shake all ingredients vigorously (to make sure that pulpy orange juice gets mixed in well and good) and strain into a chilled cocktail glass. Double strain with a tea strainer for a cleaner, less pulpy drink (my preference). Garnish with a flamed orange peel. Sip on the veranda.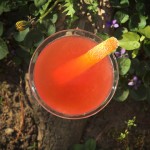 Well, it certainly smells sweet and orangy, though the Campari certainly noses through. The taste is quite pleasing. Definately a Campari drink, albeit much subdued. It really is a beginner's Campari tipple. The orange juice gives it body, and the amaretto lurks underneath with a syrupy dark fruit flavor. Though DeGroff mentions that the simple syrup is optional, I did include it, and I suggest you do as well, especially if you're not a big fan of the Campari bittersweet flavor. I do enjoy Campari, though I think this drink would be too bitter without the extra syrup. A hit of grenadine might play nicely in place of the simple syrup, and would only deepen the drink's lovely reddish-orange hue.


The Lady Friend, who was making some blue-tinged tequila monstrosity (she just added "of course I am; that's how I roll") had a taste and liked it more than she thought she would. She wrinkles her nose any time I open that Campari bottle, but was able to handle this one. She claims "the Campari and amaretto are nicely balanced," and "…it was sweet, but I don't know if I'd want more than one of them." Not the biggest vote of confidence, but an improvement over her usual face of revulsion.
I, on the other hand, think it was quite nice, and shall have another.