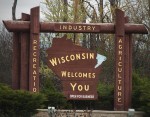 Yet another travel series that I never seem to finish. This one tells the tales of our Milwaukee adventures in late March of 2012. We went there to do some serious drinking. Oh, and also Trevtastic got married. Yeah, some girl actually married that boy. But still, it was a good excuse to show the Lady Friend the various drinking landmarks of Milwaukee, so that's what we did. Wistful wanderings in Wisco. Part 1 is here.
Yah dere hey.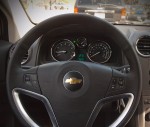 Ok. Enough Chicago. Time for the real destination: Milwaukee, WI. We flew into O'Hare with the intention of driving up to MKE, so we started off with the acquisition of our sweet rental vehicle, a Chevy Captiva/ Daewoo Winstorm. The Lady Friend had reserved a "small" vehicle, and we got this monsterous crossover contraption that looked like a Big Wheel made from Legos, stale breadsticks, and shellac. Since I'm used to driving Elsa, who is only about 4′ tall, or Phantom, the Lady Friend's Corolla, the Captiva was like sitting in a ski lift. Apparently this counts as a compact vehicle in the Midwest. Still, it did seem to move better than most domestic plastic monsters, and in about an hour, we hit Milwaukee.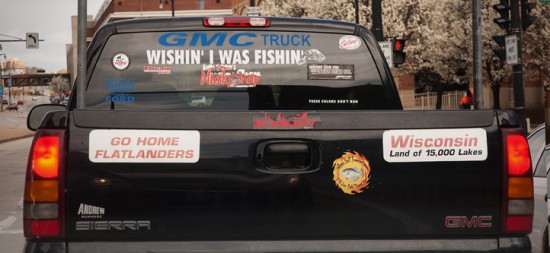 Holy redneck, Batman. I think we made a wrong turn and drove to Alabama.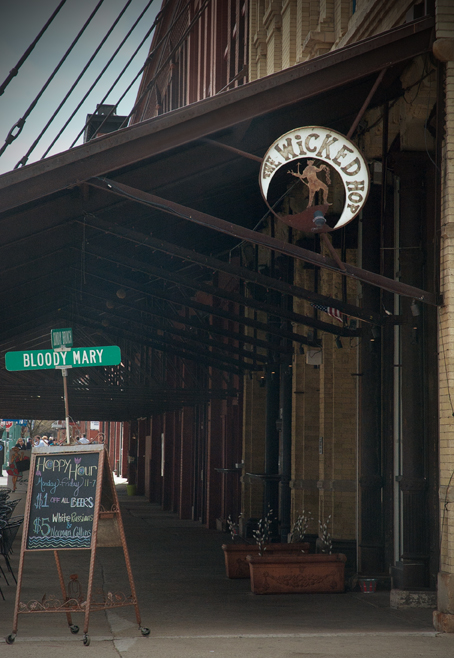 We met Trevtastic and cohort Meissner for brunch at The Wicked Hop (Milwaukee is really into brunch) and started with a few beers. The Lady Friend asked me to find her something new and local, and got Oscar's Chocolate Oatmeal Stout from Sand Creek Brewing in Black River Falls, WI, about halfway between Milwaukee and Minneapolis/St. Paul. Not exactly local, but at least in the same state. I went with a Central Waters Mud Puppy Porter, which was quite tasty. Much smoother than her Oatmeal Stout, which was on the bitter side. The Lady Friend was content with sipping her stout while I went for a second round: Lakefront's Poison Arrow IPA. I'm told it's only available on tap at The Wicked Hop, but I wasn't able to confirm that. Still, I'd never seen it before, and it was mighty tasty: an excellent West-Coast style IPA. While finishing up, I got a message from LB, a friend from high school who moved to Milwaukee (by way of Flore-da) several years ago. We were crashing at her house for the rest of the trip, and she shot me a text to say she was doing some work around the corner above the Milwaukee Ale House. We still had a bit of time to kill before our 2pm Great Lakes tour, so the Lady Friend and I headed over for a hello, and a quick drink.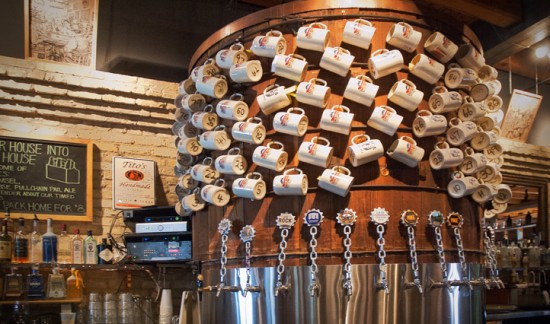 Can't have an alehouse without ales. And mugs.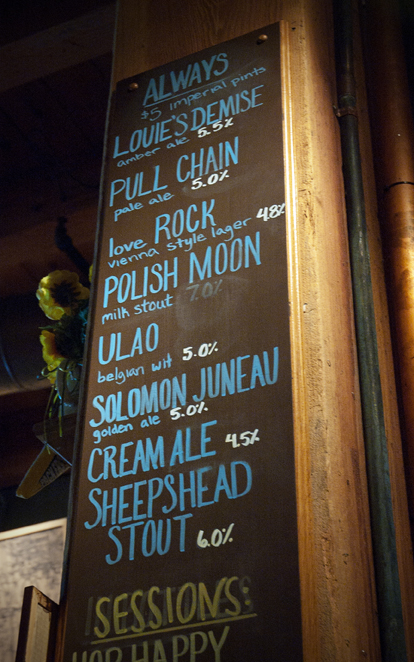 The Milwaukee Ale House is the brewpub for Milwaukee Brewing Company. I had been here for dinner on my previous trip, and found their beers to be good, but not great. Their IPA in particular irked me last time, as it was described as "aggressively hopped" but was pretty weak. It had some hop to it, but was nowhere near anything I'd call aggressive. I made a point this time to try some other hoppy offerings to see if they could stand up. While the Lady Friend tried their Hop Happy IPA, I went with a pale ale, followed by a sample of their dIPA.
Pull Chain Pale Ale 5% abv 43 IBU
Nose: Bitter aroma; sharp, slightly savory, English-style hop with a decent cereal malt sweetness.
Taste: Tastes much as it smells. Sharp, bitter English-style hop with a cereal maltiness. Overall bitter, but drinkable.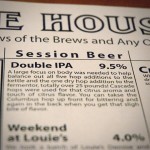 Double IPA Double Imperial Pale Ale 9.5% abv, no IBU listed.
For some unfathomable reason, this beer was listed under the heading "Session Beer." WTF? Session beers are defined at 4-5% abv, depending on who you ask. How could a 9.5% double IPA possibly fit that category? Anyway, the menu also claimed that their dry hop was "totally over 25 pounds!" when making the beer. Ok then. Let's taste it.
Nose: Candy sweet, almost like a bubblegum Belgian, but heavier, with more body behind it.
Taste: Wheaty bubblegum sweetness, but with an alcohol kick. Tastes like a wheat beer with a shot of grain alcohol. Not very well balanced, since I didn't get much hop bitterness, and too boozy.


So, not the greatest experience. I'd still love to give the full lineup of MKE Brewing a run and see if there's some gems in the mix, because I haven't hit any yet. That said, the beers I have sampled were all perfectly drinkable, just not anything I'd seek out specifically. Perhaps on my next MKE voyage I'll have time to give them my full attention, but this last trip had other priorities. It was time for a tour of Great Lakes Distillery. Right after I took some shots of a Lamborghini Murciélago that was parked at the curb.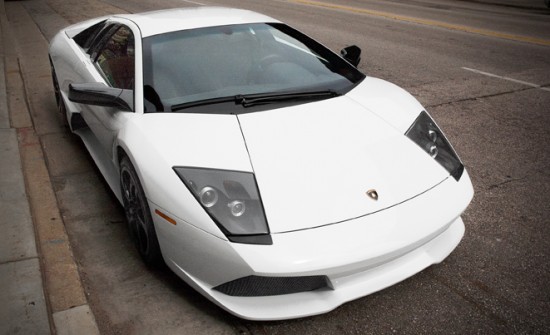 A Lamborghini in Milwaukee seems as out of place as a John Deere tractor in NYC.