Friday drinking activities began, as most Fridays do, with the Rule 37 cocktail of the week: The White Lady. Tasty. But there were also a couple beers in there, notably a Lakefront IPA, and a bomber of Blatant IPA shared with the Lady Friend. IPAs don't get much better than those. Yowza.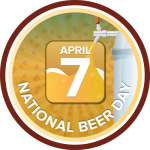 Untappd gave us another Saturday quest, though this one would be much easier than our previous journey. The first badge was for National Beer Day, and was earned by simply, well, having a beer. Simple enough. National Beer Day (April 7), is a wholly underappreciated holiday in the US, along with Repeal Day (Dec 7). With the passage of the Cullen-Harrison Act of 1933, "3.2% beer" was legalized, signaling the beginning of the end of Prohibition. Spirits would be legalized on December 7 of the same year. Oddly, National Beer Day is celebrated on the date beer was legalized (April 7) though the bill was signed by President Roosevelt (the one from WWII, not the BULLY! one) on March 22, remarking "I think this would be a good time for a beer." Conversely, Repeal Day is toasted on December 5th, when it was ratified, though it did not officially go into effect until December 15th.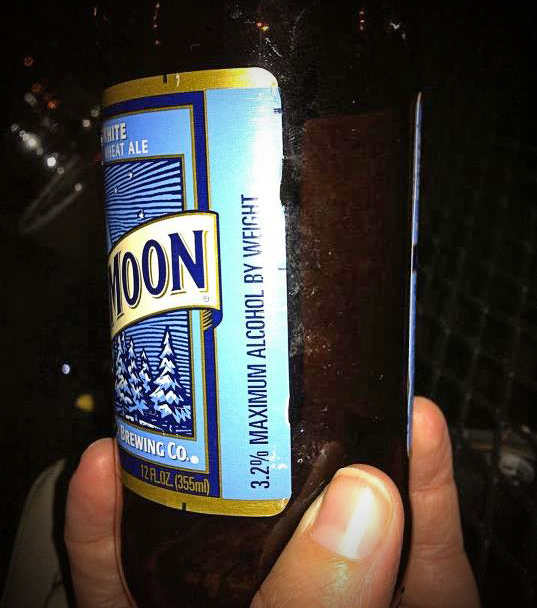 To make things interesting, in the Cullen-Harrison Act, 3.2 beer referred to the alcohol content by WEIGHT, not by VOLUME, though alcohol by volume (abv) is the standard measurement now. 3.2% abw is roughly equivalent to 4% abv, though some states, like Oklahoma, still adhere to the weight measurement. This is why most macrobrews (Bud, Miller, Coors) are all generally limited to 3.2% abw/ 4% abv: they can still sell to the 3.2 beer states without changing their recipe. In several states, there are heavy restrictions on alcohol content, and "beer" is defined as <3.2% abw. The silliest part? The Cullen-Harrison Act went with 3.2 beer because it was "thought to be too low to be intoxicating." Anything over that amount of alcohol must be sold in a liquor store. Note: do not move to Colorado, Kansas, Minnesota, Oklahoma, or Utah. The original act only legalized this type of beer because they thought it was too low in alcohol to do much harm, yet these backward states are still clinging to that, saying anything above 4% isn't beer. Amazing.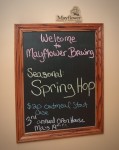 Funnily enough, it was also Untappd's Session Beer Day, which meant we'd need to find a beer that was 4.5% abv or less. Naturally, my fridge didn't have anything that sessionable (there's some Asian beers in there, but they were clocking in at around 5% or more) and our first stop wasn't going to help us either: Mayflower Brewery. Their weakest beer is the Golden Ale at 4.7%, just over the cutoff. We decided to pop down anyway for a visit and a taste of their current seasonal, Spring Hop Ale. We met up with the amusingly sharp-tongued Sarah, and sales rep Christina, whose business card boasts the title of "Territory Manager," which sounds like there would be knife fights involved, necessary to guard your turf. We set about tasting right down the line of taps (though the Spring Hop is recommended after the pale ale, but before the IPA) and gave the new brew a try. They refer to it as a "red, hop aroma, ale" because they like to make up names for these things (their autumn beer is labeled as an "American Dark Wheat beer").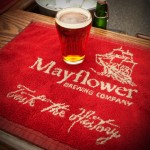 Spring Hop Ale Hoppy Red Ale 5.3% abv
Nose: Hoppy. Sweet pine. Savory, but not too malty.
Taste: SHARP bitter start, then savory and slightly greasy. The hop cuts the grease, but a savory quality (Sorachi Ace?) lurks underneath. Finishes with a touch of copper metallic, typical of a red ale. Pretty good if you like 'em hoppy. A DRY finish, resiny and powdery. Leaves me thirsty. Guess I'll have some more beer.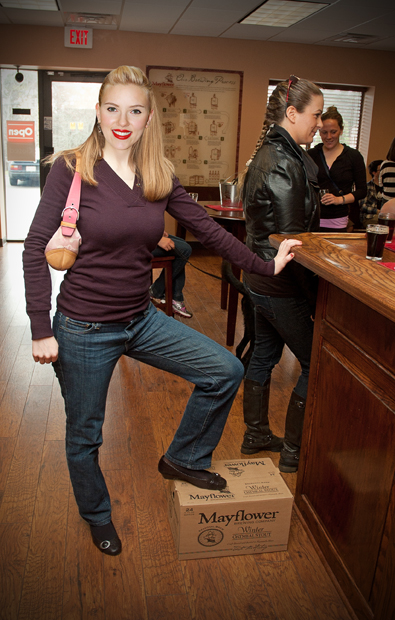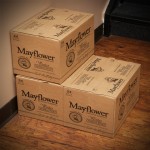 A couple of tours came and went while we were hanging out at the bar, and we chatted pleasantly with a girl who came in on a beer mission. Her boyfriend sent her to pick up some growlers, and then return to help build a shed. Instead, she filled the growlers, laid claim to a case of Oatmeal Stout, and tasted down the line of taps with us. Apparently she's a hockey player, and tried out for the Olympic team. Someone not to pick a fight with. She was quite amused by the Lady Friend and I, as various people in airports seem to be. The Lady Friend debated also snagging one of the few remaining cases of the Winter Oatmeal Stout (before it disappears until next winter), and hockey girl suddenly blurted "There's only one left!" leading the Lady Friend to bite the bullet and stock up. $20 for 24 craft beers is not a bad price at all, and now we have more stout than we know what to do with. For those interested: the full case weighs 31.6 pounds, but seems like a lot more when the Lady Friend struggles to open my apartment door.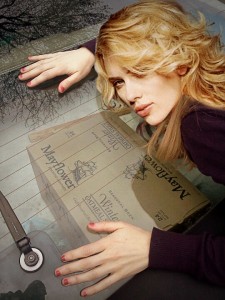 Money CAN buy happiness.


In other Mayflower news, they're currently brewing a super-duper-double-ultra-secret project that will be available "soon" in a very limited release. It's going to be about 20bbls, so a small batch of something special. Keep an eye on their twitter account for further updates. Their annual Open House is coming up on May 19th, and is well worth a visit.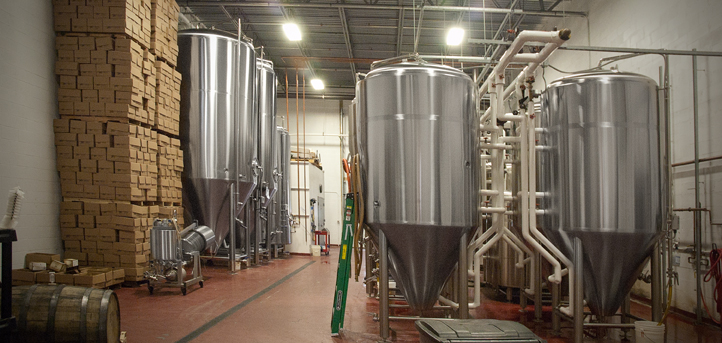 They've also got a shiny new 100bbl fermenter bubbling away and making brewery production a little bit easier. I should have taken one of the tours, because all the tanks were scrubbed and pretty, only to eventually get gunked up with beer once more. Not that it's a bad thing. We also brought back some souvenir beers from Wis-cah-sin for Mayflower to add to their impressive (empty) bottle collection, and one certain brewery employee was very excited at the prospect of getting to empty said bottles.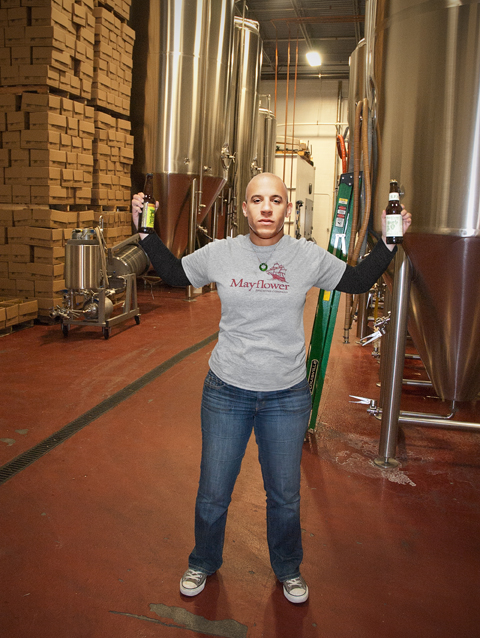 She requested this horrifying Photochop for her blog portrait.


We only meant to stop by Mayflower for "a little bit" and wound up staying for a decent amount of time. When it was finally time to go, we headed for the Union Brewhouse. While in the Midwest last week, I had seen that they had Ithaca Flower Power on tap, which I've been trying to cross off my list for some time. I've had it before (it's amazing) but never at the Brewhouse. Naturally, when we got there, it was all gone, and we settled for an Oskar Blues Deviant Dale's dIPA. Om nom nom.


Oh you think this is over? Not quite yet.


We hopped on the never-sucky-always-wonderful Red Line to voyage towards the dark and foreboding Land of Cambridge. We were heading to Cambridge Brewing Company for the Irish Lad's birthday dinner. Since the Lady Friend had a CBC gift card from the Father of the Lady Friend, it was a perfect storm. We'd snag some beer samples, and have a tasty dinner. We needed a <4.5% abv beer for our session badge, and CBC had just the thing: their Regatta Golden cream ale clocked in at 4.2%. Score.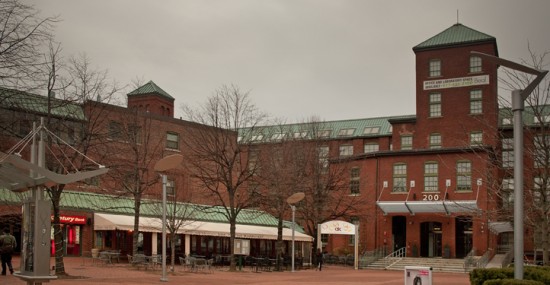 It's NEVER Sunny in Cambridge.


We were expecting the Irish Lad and Wifey to be on their normal timetable, that is, 20 minutes late, so we were entirely unprepared when they showed up relatively close to 6pm. We had just ordered our five samples, and were about to start tasting when they showed up. It took another few minutes before CBC would seat us, then some awkward transferring of small glasses to the table. Time to taste.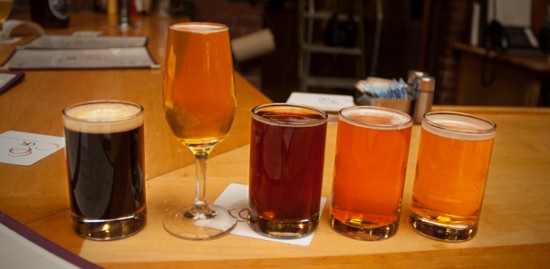 Regatta Golden Cream Ale 4.2% abv
Nose: Light grain, cereal
Taste: Yup. Light golden, sweet cereal grain. Session Badge acquired!
Tall Tale Pale Ale 5.8% abv
Nose: Hoppy; a sprucy hop
Taste: Pine hop, bitter lingers through the aftertaste, but very nicely balance. Yum.
Weekapaug Gruit Gruit 5.5% abv
Nose: Malty, with some herbal notes. Mostly malty.
Taste: Malty, but with a watery middle. Caramel, with a light herbal, almost lavender, essence.
Spring Training IPA India Pale Ale 6.3% abv
Nose: Medium fresh hop aroma. Piney and spicy.
Taste: Sharp-ish hop bitter. Not as sharp as Mayflower's Spring Hop Ale, but a touch spicy.
Charles River Porter (Cask) Cask-aged Porter 6% abv
Nose: Sour. Winey. Burnt plastic and wood.
Taste: Sour, alcohol taste. Winey sweet/sour, but very dry. Meh. Bleh.


Overall tasty and nice. The Irish Lad got himself into a happy place with three samples of his own, and dinner was munchable as always. After the feeding, we disbanded; the Irish Lad and Wifey back to their house to entertain other guests, and Lady Friend and I back to SFHQ.
Seriously. Last stop.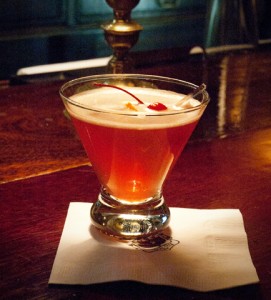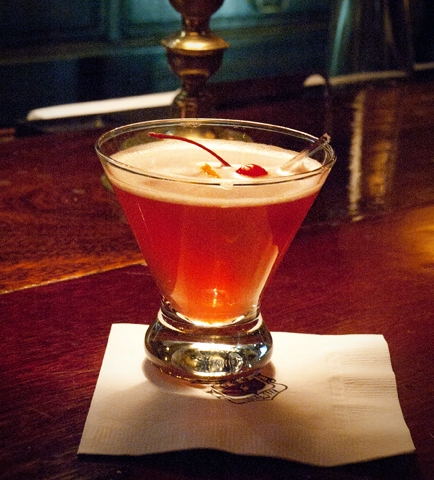 Locke-Ober is one of the oldest restaurants in the City of Boston. Seriously, it's been there for over 150 years. Anyway, this is notable, because a (somewhat) well-known cocktail was invented there: The Ward 8. The short version is that the drink was invented in 1898 in honor of (or in spite of) some politician named Martin Lomasney. Some say that the drink was a jibe aimed at him for his Prohibitionist opinions, but he won whatever silly election he wanted, and the cocktail is still known around Boston, if you go to the right places. Locke-Ober will certainly make you one, but it's pretty uninspired. Drink, down in Fort Point, will make a much tastier version, though the recipe itself is pretty dull: essentially a whiskey sour with orange juice and grenadine added. Nice, but nothing mind-blowing. The kick is to get one at Locke-Ober just for the novelty. It's like having oysters at the Union Oyster House, pizza at Regina's, or getting into a fight and vomiting at the Liquor Store.


Finally we decided that we'd had enough drinking fun for one day, and retreated to the T. Back to SFHQ, leaving pieces of my liver in a trail behind me.