The Monday Hangover:
Other drink adventures of note from the weekend.


Yeah, this took awhile to complete. Sue me.


Friday FINALLY came after another looooong (but warm) week. By the end of it, I was just crawling towards Friday night cocktails, and Rule 37. A large double whiskey sour followed soon thereafter, and things start to get hazy after that.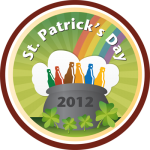 Saturday, however, was the main event. Yes, of course it was St. Paddy's Day, but that just meant it was going to be amateur day no matter where we went. The Lady Friend was rather insistent about being out and in the world, whereas I wanted to avoid the city like the drunken plague it was sure to be. At least there are signs to watch for: anyone drinking green beer is a total rookie, for example. And they were everywhere. So we strategically set a plan in motion that would allow for a full day of spirited imbibing, while avoiding the clowntards from the I-495 belt who invade the city on such occasions. I'm looking at you, Lowell. You too, Amesbury.
The goal was to unlock Untappd's East Coast Brew Crawl badge. Here's the deal: you go to the Ladies of Craft Beer website, and find your city on their list. There are five bars listed for each city; check in a beer at three of the five, and you earn the badge. The five Boston options are:
– Cambridge Common
– Deep Ellum
– Boston Beer Works (doesn't specify, but I'm assuming the Fenway location)
– Redbones
– John Harvard's
We figured if we stopped off in Harvard Sq, we could hit John Harvard's, walk over to Cambridge Common, then hop the T up to Redbones to score the badge. It managed to avoid most of the holiday lunatics and still fill us with tasty tasty beers. Sounds like a plan.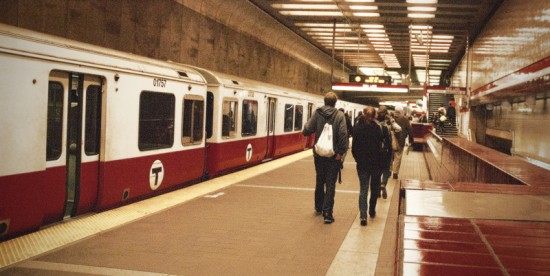 After making the Lady Friend take a shot of the good stuff, we headed to our first destination: John Harvard's Brew House in (naturally) Harvard Square. I'd been here many times in the past, and their beers are all quite tasty. Now that my palate has expanded, the variety of brews doesn't startle me the way it used to, but I still find them all to be very drinkable.



Oh she's a brick… dun dun DUUUN dun… brewpub?


John Harvard's Brew House is named for John Harvard. Yeah. Here's the deal with that. Johnny was from England, and when he was 18, his dad died of the plague (seriously… the PLAGUE) leaving him some cash. Then his mom died; more cash. He became a Puritan minister, and decided to bail out of Limey-land for the Colonies, taking his wife and brother. On the way, his brother died too, leaving Johnny even more cash. Well, he got to America around 1637, settled down in Charlestown, and about a year later, got tuberculosis and, yup, died. At age 30. Dying was a pretty popular hobby back in the 1600s. On his deathbed, he requested that his money be split: half goes to the wife, and the other half towards founding a new college (which was called "New College"… seriously?). Also, he gave them a bunch of books, which was probably a pretty big score for a new school in the 1630s. He wasn't the founder of the college, but since he gave them a bunch of monies and books, they named the college after him. Maybe you've heard of it. Especially since now they have an endowment of $32 BILLION. That's BILLION with a 'B.'




This is why I leave a "present" in Harvard Yard every time I visit.


Also, they made a statue of him that isn't really him.


Anyway, we headed for the brewpub, which is down a flight of stairs, and appropriately dark. It could be Sunday morning or Tuesday night in there and you wouldn't know the difference. After much deliberation (the Lady Friend can never make up her mind about where she wants to sit. "I dunno… a table would be nice, but maybe just a seat at the bar, but I don't want to sit over THERE, although there's a slight breeze HERE, and I don't like the way the Earth's magnetic field pulls in that OTHER spot…") we hunkered down at the end of the bar. Sampler time: five pours of 4-5oz, pre-determined. Here's the lineup: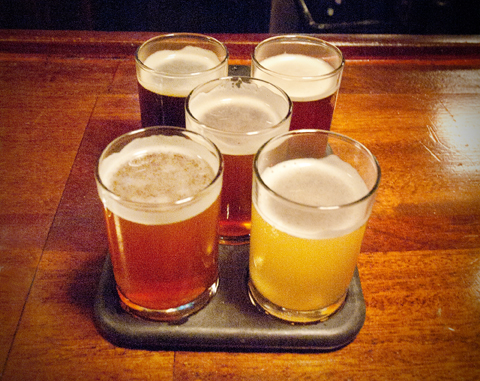 Tasty beersies.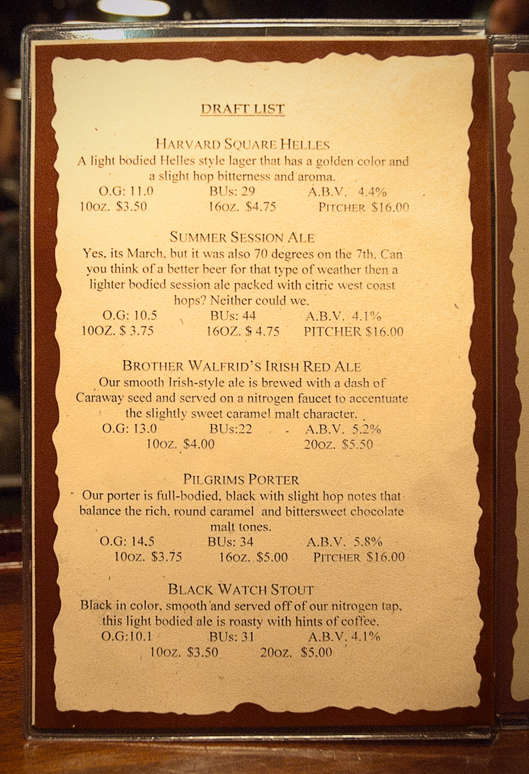 Harvard Square Helles Helles Lager
4.4% abv, 29 IBU
Nose: Light lager aroma with a slight stale noble hop in the background.
Taste: Cheerios! Very cereal grain and a touch of sourness in the finish.
Summer Session Ale Hoppy Ale
4.1% abv, 44 IBU
Nose: Hoppy – a piney hop, hippity-hoppier than expected. I've noticed a lot of summer ales heading in this direction, like Newport Storm. A welcome change from the light, lemony offerings from Sam and Harpoon.
Taste: Well balanced. Tart, piney hop, but a cereal malt sweetness evens it out. VERY nice and balanced.
John Harvard Pale Ale Pale Ale
This was offered instead of the Pilgrims Porter on the menu, so I didn't get the abv or ibu info.
Nose: Mild sweet pine aroma, but very mild. Hard to discern, even with a vigorous stir.
Taste: Tastes stronger than it smells. Piney hop, but sweetish, almost a touch of vinegar sour.
Brother Walfrid's Irish Red Ale Irish Red Ale (Nitro)
5.2% abv, 22 IBU
Nose: Malty toasty. Biscuity.
Taste: SMOOTH. CREAMY. That would be the nitrogen carbonation. Smaller bubbles than carbon dioxide which make a creamier brew. Toasty malt, somewhat watery, with a weak copper metallic in the finish. Very drinkable.
Black Watch Stout Stout
5.8% abv, 31 IBU
Nose: Skunky, stale coffee aroma. Like a pot that's been sitting around all day.
Taste: Stale coffee bitter. Weak, watery middle. Finishes with a roasted bitter snap, which saves this from being a total disappointment. My least favorite of the bunch.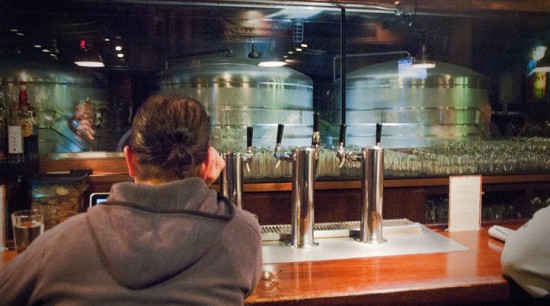 Brewpubby.


In general, I enjoyed the sampler, except for the stout, which was the weakest link by far. All the brews appear to be unfiltered, and have a cloudy appearance. There's a cereal sweet grain taste prevalent in all the beers, which is not a bad thing at all. This is why I like to do samplers: you can taste the variety, but also the common threads between a brewery's various products. First rendezvous reached, on to the next waypoint.




Shiny.
Given the 8.5% abv homebrew, then the shot of whiskey, then the sampler I had consumed, without any sort of breakfast or lunch to speak of, I blissfully entered the happy land of Mild Buzz-ville. We struck out across Harvard Yard and along Mass Ave to stop number two, Cambridge Common. I don't really know much about Cambridge Common, since I didn't think I'd ever been there before. Turns out I had been there once, but didn't remember until I walked past the exact table and something in my brain clicked. Anyway, they have a great craft beer selection, and also offer a "build your own" sampler of four, 5oz glasses. So that's what we did. Well, the Lady Friend chose her own, but I went with the suggested sampler with one substitution.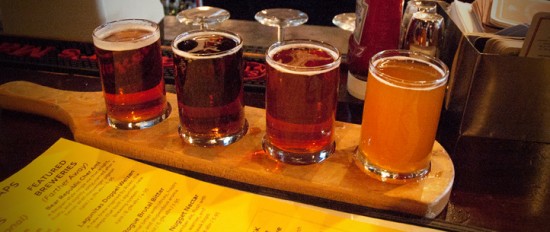 Happy paddle.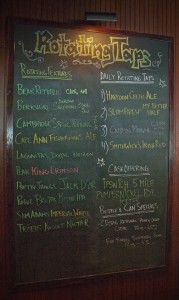 Lagunitas Doppel Weizen Weizenbock
8.5% abv
Nose: Oh Jeebus. Bubblegum sweet wheat. The Lady Friend said it smelled like "Unibroue, but American."
Taste: Wheat sweet, but with a bitter, sour hit in the finish.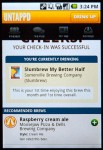 Slumbrew's My Better Half Cream Ale
7.2% abv
Nose: Fruity, strawberry. Total fruit. The Lady Friend suggested "strawberry shortcake."
Taste: Big League Chew, not Bubble Tape, strawberry flavor. Ugh. I really wish they would call this one a fruit-flavored beer, as this isn't what I expect from a cream ale. Much like the Flagraiser IPA we tasted, there's a lot of fruit in this. Untappd recommended a raspberry cream ale after tasting this one, so I'm not the only one who thinks this is a fruity beer.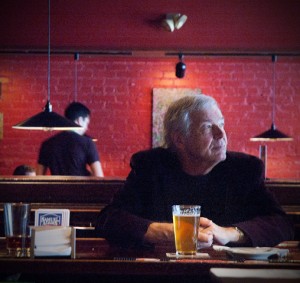 Tröegs Nugget Nectar Imperial Amber Ale
7.5% abv
I believe there was a cider listed on the sampler, but I figured I'd get the Nugget Nectar instead while the gettin' was good.
Nose: Heavenly sweet resin hop AMBROSIA.
Taste: SAVE ME FROM THE WHEAT!!! SO GOOD, I NEED NEW PANTS. (That's what I wrote.)
Smithwick's Irish Red Irish Red Ale
4.5% abv
Hey, it's St. Paddy's. Had to have an Irish brew in there SOMEwhere.
Nose: Malty. Light adjunct aroma.
Taste: Meh. Slight adjuncty malt cereal. Nothing great, but perfectly pleasant. You could drink a thousand of these.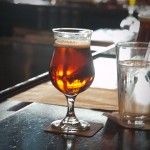 Sometime after finishing our samplers, we (she) decided it would be a good idea to order another beer. The Lady Friend gets very cocky when she's had a few beers, and thinks she's immune to the effects of alcohol. Until you add a full pint on top of a sampler or two, and she goes from the top of Olympus to the bowels of Hades real quick. It's a long sharp fall from "pleasantly buzzed" to "oh NOOO… I don't want to be THIS drunk." Fortunately, that wasn't the case this time, but I've seen this pattern emerging in her drinking habits. I was still in "pleasantly buzzed" mode, and we ordered a full Nugget Nectar, which is simply top notch. If you haven't had this beer, go get it while you still can. We split the 12oz pour and had some more happy walking up to Porter Square, where we hopped the T up to Davis, and Redbones.







I've written about Redbones before, so I won't go into it again here, except to say that yes, it's still awesome. The Lady Friend scored a Groupon a couple months ago, so we tucked into some solid BBQ. Unfortunately, because MA is alcotarded, the Groupon can't be used towards booze, but we each ordered a beer to complete our Brew Crawl trifecta. For me, it was the Watch City Rescue 1 Kölsch, a beer brewed in tribute of a fallen Worcester firefighter. It had a soapy lager aroma, and tasted very lightly of cereal grain, with a mild lager bitter. Very light and refreshing. It certainly didn't hold up against some Redbones sauce, but it was refreshing after a day of boozing. Plus…



This is why I like Untappd. It gives my drinking focus, purpose, and a general sense of accomplishment.


Mission completed.
While we were finishing up our meals the Irish Lad and Wifey joined us, followed later on by the Engineer's Wife, who was at the Lakefront tasting the previous weekend. The five of us headed over to the nearby Five Horses Tavern, which allegedly had some good beers available.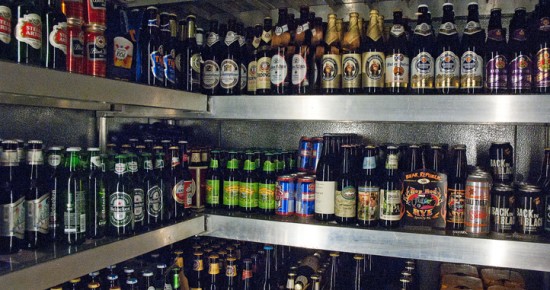 They did.


There were indeed several intriguing choices available, but I soiled myself when I saw one particular item: Bear Republic Mach 10 dIPA. I've had many of Bear Republic's offerings, but they didn't have this when we visited Bear Republic back in November. So, I had to have it. All I can find from my tasting notes are "SWEET BABY JEEBUS IN THE MANGER" so apparently I enjoyed it. I don't think there's much that Bear Republic makes that I DON'T like.
Of course, I have no idea what everyone else was drinking, even though the Engineer's Wife asked for my input to help her choose a beer she'd enjoy. Not a clue what we decided on. The Lady Friend and I finished our drinkies and headed out, though the Irish Lad was getting apprehensive about the growing bar crowd as well. We made a stop over at Downtown Wine & Spirits, and scored some Schenkerla beers. This is the brewery that makes the famous Rauchbier Marzen, though since then we've tasted there Helles as well. Downtown had three other varieties from the brewery that I didn't know existed, so we scored those to taste another time. The other three went back to their homestead, and the Lady Friend and I boarded the 100-year-old Red Line once again. Back to SFHQ, my little cocktail cavern.