Hot on the heels of our visit to Ryan & Wood Distillery, the Lady Friend and I headed into downtown Gloucester to check another well-known North Shore location off our list. No, we didn't see that statue of the fisherman guy.
We went drinking.
Of course.




Cape Ann Brewpub. Welcome to Gloustah.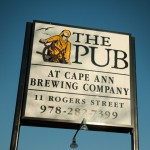 Well, apparently it's simply called "The Pub" at Cape Ann Brewing Company. Cape Ann is a family-owned microbrewery that makes locally-distributed brews such as Fisherman's Ale, Fisherman's Brew, and Fisherman's IPA (notice a pattern here?). The Lady Friend and I popped in for a snack and a sampler, though why we didn't take the tour, I can't remember. Maybe they weren't running that day, or we got there too late, but there was some sort of reason. The Pub itself is clad in a lighter, orangy-oak-colored wood, with heavy picnic-style tables and benches throughout, creating a very New Englandy nautical feel. The wood paneling gives a definite feeling of being in or on a ship, aided by the outdoor deck's views of Gloucester Harbor. Overall, it's a great look for a brewpub; it doesn't seem overly-styled, though there was certainly some thought that went into the design of this place.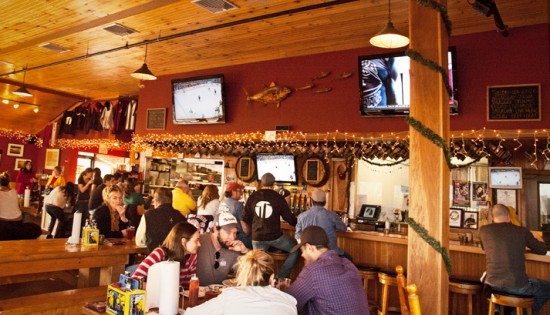 Ahoy.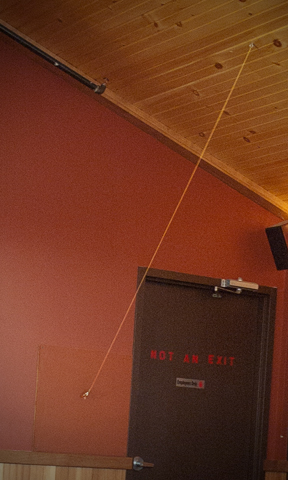 While I'm sure this place is a touristy nightmare in the summer, during the darker months it was distinctly filled with locals. There was a mix of blue-collar men, most of whom were bearded, and donned hoodies, faded baseball caps, or both. The other variety of client was of the older Yankee couple category, chewing slowly and glaring at everyone around them. Most of the patrons stared distractedly at the Bruins game on one of the many TVs, erupting into cheers and slapping the bar with every Bruins goal, or amused themselves with pub games. One in particular involved a wall-mounted hook, and a metal ring hanging from a length of rope. The object was to swing the ring in a pendulum arc so that it catches on the hook. A ridiculously simple task, yet maddeningly difficult to achieve. There also appears to be some sort of "mug club" for this place, as a couple hundred thick ceramic mugs dangled above the bar, no doubt awaiting the return of their owners. Doing our best to shut out the racket of the hockey fans, and avoid the icy stares of the memento mori Yankee geezers, we delved into a beer sampler. Cape Ann pours a paddle of six beers in the standard 4-5oz size. There were about 11 house brews offered in the menu, so we made our choices and set to work.




Hard work.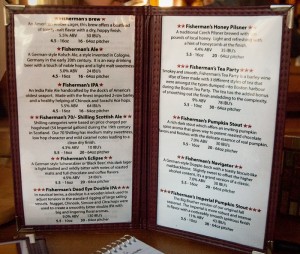 Fisherman's Brew American Amber Lager
5.5% abv, 30 IBU
Nose: Malty, with some cereal.
Taste: Slightly nutty, again with some cereal-sweet malt. A typical mild brew.
Fisherman's Ale German Kölsch
5% abv, 24 IBU
Nose: Little to no aroma. Straw yellow color.
Taste: Slightly bitter, stale flavor of Nobel hops. Cereal grain sweetness, but a little chewy.
Fisherman's 70/Shilling Scotch Ale
4.3% abv, 10 IBU
From the menu: "Shilling categories were based on price charged per hogshead (54 Imperial gallons) during the 19th century in Scotland."
Nose: Malty, slight roast and toasty. Almost a stout-like roast, but mild.
Taste: Malty, but with a lot of carbonation that lifts it. Some buttery diacetyl.
Fisherman's Eclipse German Schwarzbier
4.5% abv, 24 IBU
Schwarzbier is a dark lager: schwarz = black, bier = beer.
Nose: Bitter roast, with a vegetable stink underneath. PEAS. Canned peas. The Lady Friend confirmed.
Taste: Roast, then pea-ness. Finishes with a pleasant roast bitter. Not sure where that errant pea flavor comes from.
Fisherman's IPA American IPA
5.5% abv, 64 IBU
Two-row barley, Chinook and Sorachi Ace hops
Nose: Almost no aroma. Disappointing for an IPA.
Taste: Slight pine hop bitter with a savory/ meatiness behind it. Smooth malt finish. The Sorachi Ace sausage-y-ness strikes again.
Fisherman's Dead Eye dIPA American Double IPA
9% abv, 130! IBU
Again from the menu, apparently a deadeye is "a wooden block used to adjust tension in the standard rigging of large sailing vessels." Simcoe, Chinook, Nugget, and Citra (yay!) hops.
Nose: Bold. Sweet West-Coast tree/stone fruit. Sweet pint, and MINT.
Taste: Syrupy. Stone fruit. Wet, watery. Very nice. A touch of bitter/unripe hop cuts the sweetness. Awesome.


Apparently all my choices came from the first page of the menu. All the seasonal/weird stuff that the Lady Friend likes to try was on the second page, and I didn't make it over there. There was a "tea party" barleywine and a pumpkin stout that she got, neither of which I was particularly interested in. I managed to make an impressive mess of myself chowing down on some BBQ wings (the picnic tables thankfully come complete with paper towel racks) before we finished our beers and headed on the worst possible route to dinner on Revere Beach. Thankfully, the guidos were largely in hibernation, so the frustrations were mainly due to our dyslexic GPS trying to direct us down one-way streets against the flow of traffic. This is why we drive HER car.




"Turn left, into harbor"


Basically, The Pub was tasty, but nothing mind-blowing. It's worth a stop for some decent beers if you're in Gloucester, but only the dIPA did it for me. Maybe it's because my palate's just gotten to that point where it takes a flavor bomb to budge it, but I just don't really care much for weaker beers. Not that any of the Cape Ann brews were bad… all were good examples of their style, except for the scotch ale, which had an alarmingly buttery diacetyl flavor. Still, even that proved to be a good educational tool for the Lady Friend to taste a popcorny beer. The pea-ness of the schwarzbier was also very strange, as I hadn't run across that flavor in a beer before. I'm not sure if the brew was off, but since we're AT the brewpub, I have to assume that it's a deliberate move. The deck is probably awesome in the summertime, and you might even get to punch a seagull or two, but I tend to avoid tourists and crowds as much as possible. Again, worth visiting, but nothing I would personally seek out again.