The Monday Hangover:
Other drink adventures of note from the weekend.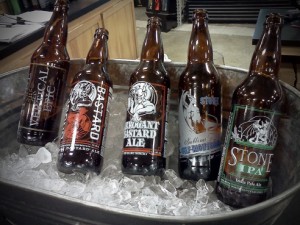 Friday night started with a mini outing to Bin Ends. Despite mooching at their Meletti liqueur tasting the night before, I returned with the Lady Friend in tow to hit up their Stone Brewing tasting. The sales rep had left early, but the Bin Ends staff was more than willing to pour and taste with us. We worked out way down the line from the IPA to the current Vertical Epic, a chili-infused brew with some lovely pepper flavoring, reminding me of a jalapeño lager homebrew from several years ago. We then browsed the shelves, and I scored some Narragansett Bock and Left Hand's new Nitro Milk Stout. The 'Gansett Bock had just come in that day, and I was informed that I was the first customer to purchase it. Score.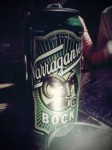 Though I didn't really enjoy the Gansett Bock at the tasting party last week, I've since read several reviews claiming that Narragansett really nailed the style. I started to second guess myself… maybe it was a GOOD beer but in a STYLE I don't enjoy. I like doppelbocks, like Spaten Optimator, but maybe I'm not as fond of regular bocks. I think that the Gansett might deserve a second chance, maybe even alongside a couple other bocks for comparison. It's not a style I can ever recall seeking out, so maybe I have an anti bock bias. The Left Hand Nitro, on the other hand, (see what I did there?) is something I've been dying to try, so finding it at Bin Ends was a total score.
Giggling to myself over the new beer treats, we returned to SFHQ for our usual regiment of Rule 37's new cocktails. The Lady Friend tried a Derby, since she's picked up an affinity for bourbon, and I made myself a Manhattan variant using Meletti's amaro.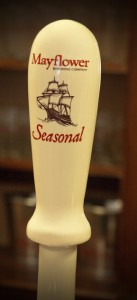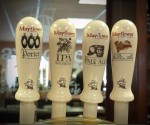 Though we had pegged this as a "relaxing" weekend after several events in a row, the Lady Friend agreed to a casual trip down to Plymouth's Mayflower Brewery. I had been exchanging tweets with Mayflower earlier in the week, and we decided to make the trip to taste their winter seasonal, an oatmeal stout, before it was replaced with their spring hop brew. The Lady Friend was interested in the stout, but didn't want to buy the sixer without tasting it first. Well, after tasting it, she decided to purchase a six pack from the brewery. Yup. Could have saved us a trip to Plymouth, but then we wouldn't have gotten to see our Mayflower pals, Sarah and Mike. Mike is part of The Best Beer Blog gang, and seemed a little off, having gotten little sleep the night before, and dealing with an unusually busy tasting day at Mayflower. Sarah, on the other hand, was her usual bouncy smart-alecky self, and we all chatted a bit after the crowd dwindled down. We'll be making another visit after the spring hop brew goes on the seasonal tap, which should be sometime in early March.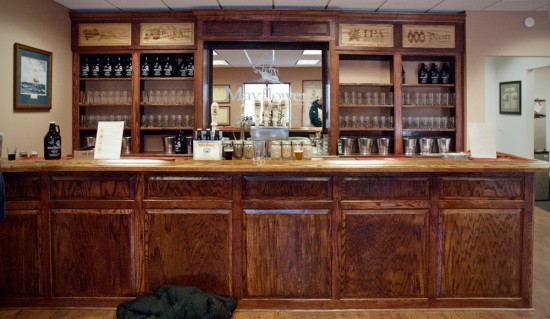 Happy place.
Oh, and that's the Lady Friend's jacket on the floor. Classy.


Post-Mayflower, we stopped off at the Union Brewhouse for another couple checkmarks on our 99 beer lists. I'm somewhere around the mark of 55/99, which is somewhat disappointing for the amount of time I've been working on it. We go through Brewhouse phases, where we'll visit several weeks in a row, then take a break for a month or so. The Lady Friend opened with Offshore Brewing's Hop Goddess, and I went with Mendocino Brewing's Black Hawk Stout. I found the Black Hawk to be a bit dry and lacking, but this was on the heels of Mayflower's chocolaty porter, and oatmeal stout. The Hop Goddess, however, was very tasty. A nice mix of bitter and citrus sweet hop approaching IPA regions, though the brew is described as a Belgian Pale Ale. Since it was on tap, I skipped a few places down on the list (I'm going in alphabetical order, while the Lady Friend chose to start at the end of the list) for a Hop Goddess of my own. The Lady Friend continued on with a Sam Adams Alpine Spring (since it was on tap), and then a Red Hook Long Hammer IPA.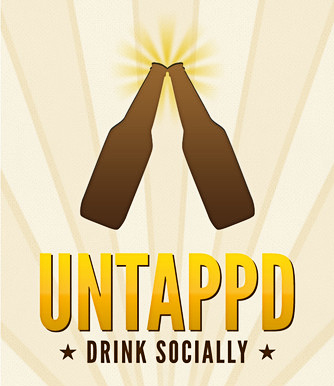 Sidebar: Should you want to follow our drinking adventures, you can find both of us on Untappd, a social media/tracking program. It's kind of like Yelp or Foursquare for beer. I've tried Pintley before, but found Untappd to be a much easier and cleaner design. Kruppcakes started last week when she saw me using it during our Harpoon tour, and it's a really neat program for beer geeks. Hit my "follow" button on the sidebar, or click here.


So, after stuffing ourselves with beer and WAY too much garlic bread (which totally ruined my appetite for the rest of the night) we picked up a pizza and headed back for a low-key evening at SFHQ. We cracked a pint of White Birch Brewing's Colonial Ale, part of an Apprentice Series they offer. However, it was way over on the farmhouse ale/sour/flemish style that neither of us enjoy. We had no idea it had that flavor profile, and had a couple sips before dumping the rest. I was expecting more of a cedar-infused ale, but the sour/vinegar caught us offguard, and we wouldn't have bought that style if we had known (it wasn't included in our tasting). I'm sure someone like the Irish Lad would find some redeeming qualities in this brew, but it's too far off my palate radar for me to enjoy.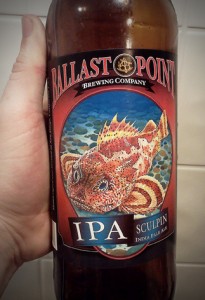 We moved on to an amazing brew: Ballast Point's Sculpin IPA. This is the epitome of a West Coast style IPA… fruity, citrusy, sweet and delicious. I brought one of these bad boys back from City Beer Store in SFO, and then found a bomber at Luke's Liquors in Rockland. I want to freeze this beer and skate on it, then thaw it in the spring and drink it. It's deliciously flavorful. Most likely, a bit too fruity sweet for some, but just an example of how differently the hops can change the flavors of beer.
We relaxed with our pizza and Sculpin, and set about watching Bridesmaids. If you're thinking about renting this movie, don't. It was preposterously bad. The only thing worse than an unfunny comedy, is a BORING comedy. Though touted as a "female version of The Hangover," the two shouldn't even be in the same category. Bridesmaids wasn't a comedy: it was just a whine fest. Kristen Wiig's dull character gets upset over the marriage of her friend, played by Maya Rudolph, (who hasn't been funny in any role, including SNL) and can't find a man of her own. While The Hangover is a gross-out buddy romp, Bridesmaids is a total snoozer. The biggest difference is that Hangover derives its comedy from the antics of memorable characters, and the group dynamic as they piece together a blacked out evening. Bridesmaids tries to stand on lazy writing, poor acting, forced one-liners, and female woes with a tired plot about the inability to find a man, and a weak secondary story regarding her failed bakery. Hangover succeeds in the role of identifiable characters, where the audience can relate to SOMEone in the group. Bridesmaids is too focused on Kristen Wiig's whiny problems that no one cares about. The fact that it was nominated for two Oscars really shows you how much contemporary movies suck. It's a joke that no one's laughing at. The Lady Friend was pissed that she spent $1 to rent it from RedBox. That's how unfunny it was. Don't even waste a dollar on it.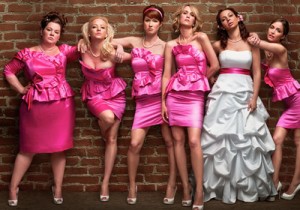 What a turdblanket.


Lazy Sunday was spent tasting various beers in my fridge and trying to wash away memories of Bridesmaids. I've got way too many 12oz singles in my fridge, and devoted the afternoon towards working through part of the backlog. After a Lady Friend dinner (that's a dinner prepared BY the Lady Friend, not a dinner consisting OF her. It hasn't been a Donner Party kind of winter this year), I cracked the Left Hand Nitro Milk Stout.
I'll say this: a way to ruin a good pair of britches… you will soil yourself with delight. It's that good.