This week's Rule 37 is not the happiest of situations.
One of my former coworkers has died.


My previous job was my first "real" full-time job. I was working for a large printing company doing digital photo retouching and color correction for magazines and catalogs. At the time, the production employees were divided into crews, working 12-hour shifts three days a week. A and B Crews were on the daytime schedule, and I was thrown to the wolves on D Crew, a sarcastic bunch who were currently working the 7p-7a shift. There really was something a bit off about this ragtag bunch, as they were all a little bit evil with a carefully cultivated ball-busting banter. If you happened to misspeak, or have a remark that could be even slightly misinterpreted, they'd jump all over you.
I fit right in.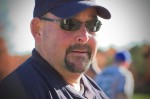 Doc was the crew lead. He was kind of the grumpy old man (in his late 40s) of the crew and was a bit of a pain in the ass when he felt like acting bossy. But in a good mood, he traded insults back and forth with the rest of us with his slow hearty chuckle. He got his nickname as "The Doctor" shortened to "Doc" for being a sort of jack-of-all-trades back in the earlier days of the office. [UPDATE: It may have been a college nickname that stuck at the office. I'm sure someone knows the real story, but I thought it was a work thing.] What was amusing was that it was soley a work nickname… when you'd talk to people who knew him outside of the office, they'd call him Mark, and it would take a second to realize who they meant.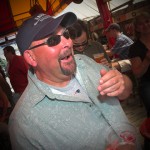 One night, he plugged his iPod into the stereo and started playing some blues/rock tunes. I made some comment about the "old man music" he was playing, which got a laugh, since I was the youngest one on the crew by more than 10 years. He replied with "Whatever, Junior" and annoyingly, it got a bigger laugh, and the name stuck. I was Jr from then on. Word spread until everyone in the office called me Jr, to the point where I suspect some of the sales staff don't actually know my real name to this day.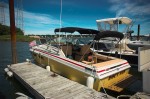 One event that clearly sticks out is a day trip the crew all took together. I had been on the crew for about three months, and Doc invited us all out on his boat for a cruise around Boston Harbor and the south shore, as a social event to bond the crew together. This boat, "Doc's Fun" was like his child. Where other people had a sports car, or liked to travel, Doc had his boat. The day we went out was a perfectly sunny, with snacks and beers as we bombed around the Boston waterfront, and rode back down to Hingham to dock in a cove for some swimming. Plenty of photo opportunities, and a nice day out with coworkers, who eventually became close friends. I like to think our crew was the tightest, due to the way we constantly and mercilessly tore each other apart for sport. I loved it.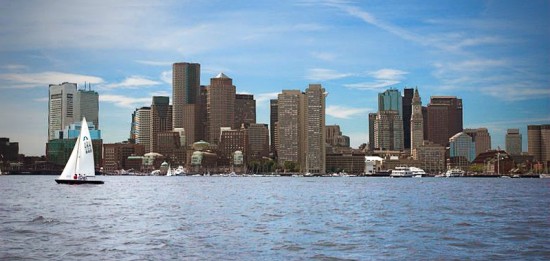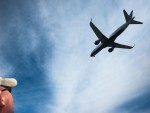 Last Thursday night, Doc wasn't feeling well. He was a big guy, and his doctor had warned him to drop some weight and change his eating habits. I remember him starting a workout program with a trainer, but he hadn't mentioned it in a long time, so I'm not sure if he kept up with it. From what I've heard, last Thursday night he felt odd enough that he decided to drive himself over to the hospital. It's not known exactly, but it's suspected that he had a heart attack on the way, which caused him to crash head-on into another car. A witness smashed the window of his Jeep and pulled him out to perform CPR, but he was taken to the hospital and pronounced dead. I'm not sure if it was his heart, or the crash that did it, but it was a very unexpected shock to the close-knit office group.
You took his jibes and grumbles, and threw it right back at him, because underneath, you know he didn't do it out of malice. We all teased each other so harshly because we all cared for each other so deeply. I currently work at a company that prides itself on being a "family" company, but Doc's D Crew, and the rest of the office, will always be more of a family than any job I'll have again.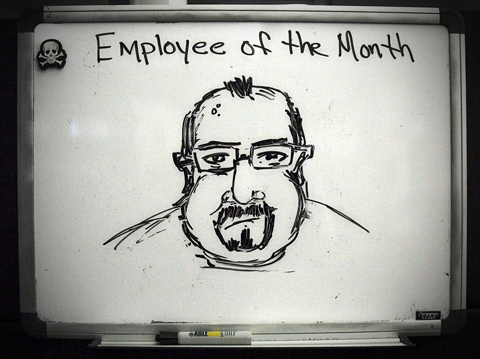 He was a grumpy pain-in-the-ass, but he was OUR grumpy pain-in-the-ass.


So, the Rule 37 drink this week is something I've put together. I'm not big on tequila, but Doc loved Margaritas, and I've played with that theme.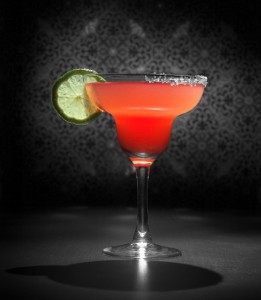 The Angeramo Doc-tail
– 3 oz blanco tequila (a nice reposado would also work well here, but I used Familia Camarena blanco)
– 2 oz real grenadine
– 1 1/2 oz fresh lime juice
– 1 oz dry vermouth
– Generous dash of orange bitters
Shake, strain, serve into a Margarita glass with half sea-salted rim. Garnish with a lime wheel.
Close your eyes and sip. Imagine you're bobbing peacefully on your boat, tied in the middle of the Charles River, on the Fourth of July.


This one is a bit bold with the tequila up front, but due to the syrupy grenadine and some dry vermouth to round it off, it comes together quite well. The orange bitters give it that extra hint of flavor to cut the grenadine sweetness.
Gruff at first, but nothing but sweetness underneath. This is a Doc-tail.
Cheers, Doc.