The Monday Hangover:
Other drink adventures of note from the weekend.


Well. Haven't done one of these posts in awhile.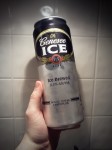 So, jumping back in, Friday was the usual round of Rule 37 drinks. I had myself a mildly interesting Monkey Gland, and finished off the night with a 24 ouncer of Genny Ice. I think it was around $1.50 or so, which is awesome, considering it's the size of two beers. I've gone through a Renaissance of cheap beer lately, and the fridge is stocked with Genny Cream Ale, Private Stock, and some big ol' Gansetts. Narragansett Porter, by the way, is actually VERY good. A decent body, with a swath of chocolate flavor, though a bit of a tinny finish. It's a total bargain… lots of (good) flavor for the price. The lager is very drinkable, and I've still got a bright orange can of Fest (their Autumn seasonal Oktoberfest brew) waiting to be tasted. In the meantime, winter is porter season, so go pick some up.


Saturday brought the first REAL snowstorm of the season. Yes, it took until January 21 to get snow accumulations of more than 2″. I'm not complaining at all… I think this has been the best winter EVAR. This was also the day that we set off into the city to celebrate the Lady Friend's birthday. I don't know who started this trend, but she's been using the excuse "It's my birthday!" for about two weeks now. Your birthday is ONE day. Anyway, a small group of us ventured into Boston to the Omni-Parker House hotel, allegedly the birthplace of the Boston Creme Pie. Despite her NH friends getting scared of the weather and bailing on the festivities (they got less snow in NH than south of Boston, so I don't see what the problem was) there wound up being about seven of us, meeting at the Omni-Parker House's bar, The Last Hurrah.
Here's where the troubles began.


First of all, apparently they don't serve any food in The Last Hurrah on Saturday, so we'd have to go to the hotel's OTHER bar, Parker's Bar (Pahkah's Bah) if we wanted any Boston Creme Pie. Lame. But whatever… we ordered cocktails (I had an Old Protrero 18th Century Style rye whiskey which was a BIG boy) with the intent of moving over to Parker's Bar for further drinks and dessert. There was even talk of meeting up with some others at Jacob Wirth's, the German beer hall-style establishment where we last attended a Harpoon event. However, after finishing our drinks and getting the check, our waitress vanished. Simply disappeared off the face of the earth for about a half hour. Finally, after sitting around helpless like idiots, one of the girls in the group took the check to the bar to get our cards run. Magically, the waitress reappeared as we were leaving (the receipt says her name was Heather). Where was she? Narnia? Annoyed, we headed across the lobby to the Parker's Bar.
Yeah. More troubles.


We put in our orders for drinks and desserts (the Lady Friend's coworker, D, felt compelled to get an $11 bowl of chowder) and amiably chatted amongst ourselves. Time goes on. And on. About twenty minutes later our drinks arrive, followed shortly by the food. What the hell? Was there some reason it took so long to get two cocktails and five beers? Ugh. After finishing said nibbles and tipples, we waited for the waitress to reappear so we could get our check. And waited. And continued to wait for another half hour or so. It was appalling. When she finally did make it to a nearby table, apparently someone at our table caught her eye and indicated that we'd like the check. I missed it, but allegedly the waitress made a face and dismissive "one minute" gesture. Now, the "one minute" finger can be done politely, as in "Ok, I see you, I'll be with you in a minute." This was more in the spirit of "Yeah, whatever, I'll get to you when I feel like it." Wow.
Now, we're a group of seven, dressed decently (not formal, but no hoodies or tshirts) spending our money on their expensive cocktails and desserts, and they act like they're doing us a favor. We weren't loud or disruptive, or even intoxicated in the slightest, since we had each had two drinks over about a three hour time span. The incredibly inattentive service basically wasted hours of our night, and by the end of it, no one felt like venturing out to another bar. We could have had several more rounds of drinks at the Parker Bar, but the waitstaff seemed determined to prevent us from doing so with their constant disappearing act. Neither bar was terribly crowded, so there was no reason I could see for such a lack of service.
The message I got? "We don't need your business."


Fine. You won't get it again.


On Sunday the Irish Lad and I brewed some beer, but I'll save that for another post.
I'm still peeved about the Omni Parker House.
Don't give them your business. They don't seem to want it.