The Monday Hangover:
Other drink adventures of note from the weekend.
Another week down.


Friday night we skipped over our usual Rule 37 cocktail night to attend a party in Natick. It was the Irish Lad's company holiday party, which I had bartended last year, and took on the role once more this year. I put together a limited menu of well-known cocktails and set up shop. The Lady Friend was on hand to chit chat with various peoples, eat three ice cream sundaes, and fetch me a beer and a hot dog. The Irish Lad procured a keg of Jack's Abbey Hoponius Union India Pale LAGER, and the keg kicked long before the party did. It was tasty. The Engineer and his wife were both there, as was Wifey, of course. Her friend requested a mixture of cranberry juice, orange juice, and club soda, which Wifey overheard and asked for the same, but with vodka. Another amusing moment was when Wifey asked for a refill on her Cape Codder, to which I replied "Do you really want that? Or do you want The Mystery Drink?" Of course, she couldn't resist, and went for the mystery drink, which was a variation on a Rum Stone Sour, and very sweet, much to Wifey's delight.
If there's any question as to what the most popular liquor is, using this party as a baseline, it's vodka by an overwhelming majority. Vodka really caught on in America in the 1950s, and by the mid-1970s, became the best-selling liquor in the country. Below is the breakdown of drink popularity from the party. This is a rough recollection; I really should have kept track of real numbers.
50% vodka tonic
20% vodka cranberry
10% gin & tonic
5% vodka "martini"
5% rum & coke
10% everything else
Another fun one: some guy came up to me and ordered a Martini but "with splash of orange juice." Instant suspicion… gin or vodka? "Vodka… but light on the vodka and with more orange juice." Um, ok, so that's a Screwdriver, and nothing close to a Martini. Whatev. I did the whole fancy bit with the shaker and he seemed impressed.
I went through two and a half of the big handles (1.75l) of vodka in about 3 hours. That's over a gallon of vodka. Yikes.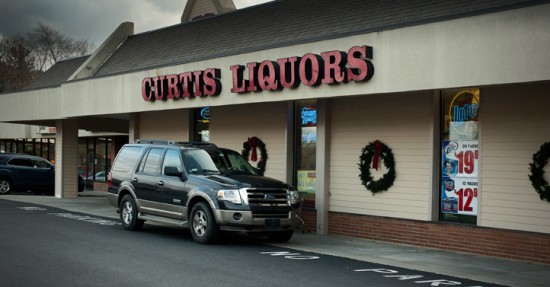 Apparently when you're this guy, the rules of parking don't apply.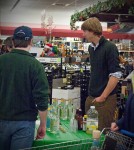 Saturday's event was another Bully Boy tasting, this time at Curtis Liquors in Weymouth. Yes, Bully Boy is now available at Curtis! I had made a Twitter comment many weeks ago to the effect of "Oh Curtis Liquors, you complete me… if only you sold Bully Boy." I was then contacted by both Bully Boy and Curtis saying it was in the works, and now, here we are! The Lady Friend and I had some liquid shopping to do, so we stopped by. There was only one Bully Boy this time, Will, and we chatted a bit in between shoppers sampling the samples. Lots of fun stuff coming down the line from these guys, so keep an eye out. I'll let you know what's up with the BBoys.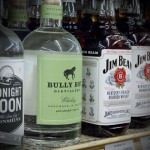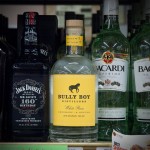 In the meantime, the Lady Friend and I wandered the aisles seeing what there was to see. We picked up a couple bombers to drink that night, and I scored a sixer of 21st Amendment's Brew Free or Die IPA. I marveled at the sight of Bully Boy on the shelves, though the $30 price tag is right at the limit of the price point. My general shopping rule for the South Shore is Curtis Liquors for craft beer, and Atlas Liquors in Quincy for spirits. That seems to be the best compromise of price, as the liquor at Curtis is a bit more, but with more beer selection, wheras Atlas has some of the best liquor prices, but more expensive brews. However, Curtis is bigger, and closer to SFHQ, so I stop by there quite a bit. I've gone through a decent chunk of their craft beer inventory, and have now been struck with beer ennui, cursed to wander the aisles with nothing seeming particularly exciting. I've reached a point where the interest lies in six packs costing $10+ and I usually just don't want to spend that much. I did score a Wachusett Larry dIPA, which is something to snag whenever you see it, as it's one of the few offerings from Wachusett I enjoy. It's very very tasty, and not at all like their Green Monsta IPA.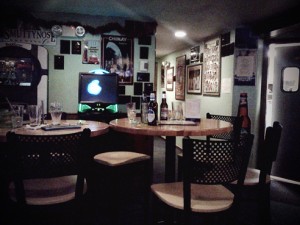 We finished up at Curtis, and headed over to the Union Brewhouse for some more progress on our 99 beer list. Though not particularly crowded, one raucous group of of late twenty-somethings managed to drown out all other conversation with their howls and entirely unnecessary table pounding. Fortunately, they left soon after our arrival leaving behind a pile of Bud Light, Coors Light and Michelob Ultra bottles, the owl pellets of the Local Yokel. Once again, what you drink is your choice, but when you're in a place with 17 taps and 100+ bottled beers, please have something other than the horrid light macrobrews that you can get ANYWHERE else.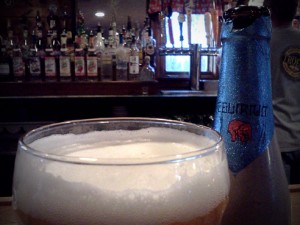 As for the Lady Friend and I, it was a Lagunitas Sucks Holiday Ale for she, and a Brouwerij Huyghe Delirium Tremens for me. I've had the Delirium Tremens several times before, and it's very, well, Belgiany. Makes sense, being a Belgian ale and all. Light body, full of carbonation, and cloudy, yeasty, banana-clove. Not my go-to. It was an effort to take this one down… I just wasn't in the mood. The Lagunitas of the Lady Friend looked much more appetizing, as a hoppy and tasty dIPA. This one has a bit of a story behind it. Basically, around this time of year, Lagunitas would be releasing their Brown Shugga seasonal, but they decided not to this time around. It just takes way too much of the brewery's resources to produce, and would take the equivalent of three regular production cases per one case of Brown Shugga. Keeping their strangely aggressive sense of humor, the brewery said "There is no joy in our hearts and the best we can hope for is a quick and merciful end. F*@& us. This totally blows. Whatever. We freaking munch moldy donkey butt and we just want it all to be over." Source. So, they made Lagunitas Sucks instead, and it's pretty tasty. I haven't had the Shugga yet, so I couldn't tell you what we're missing.
After her Lagunitas, the Lady Friend went on to sip a Southampton Publick House Double White Ale, while I continued to take down the DT. Lots of Belgian floating around. We decided to head back to SFHQ for an evening in and pick up a pizza on the way. After the Lady Friend called in our order to Bertucci's, we finished our beers and got sorted for the dropping temperatures outside. This is where the Grand Scarf Kerfuffle began. She couldn't find her scarf, which was a gift from her grandfather. Well, allegedly it was a gift TO her grandfather from someone visiting Scotland, and he regifted it to the Lady Friend. So she liked the scarf, and it wasn't draped on the back of her chair at the bar, nor had it slid to the floor. A search of the Phantom didn't reveal it either, and she lamented that it must have fallen off at Curtis. Which is nowhere near Bertucci's. Sigh. So, detour to Curtis, and it's nowhere to be found. Well, guess it's gone. Over to Bertucci's, pizza acquired, back to SFHQ. Turn on the light. Um, is THAT the scarf, lying there on the floor? Yup. Happy Lady Friend, slightly peeved SquirrelFarts. Time for pizza and beer before I choke someone with a 100% Scottish wool scarf.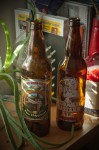 It was a bomber of Alpine's Pure Hoppiness IPA, one of the last California survivors, while the Lady Friend had her first go at a Stone Brewing Arrogant Bastard ale. Very malty, and the high abv started taking effect as the evening wore on. We watched North by Northwest, because she had somehow never seen it, and I finished off with a can of Brew Free or Die. They've got a new can design (since last year) and it's pretty awesome… it's got Mount Rushmore (which coincidentally features pretty heavily in the latter portions of North by Northwest) and Lincoln is breaking out of the rock to kick some ass. Or so it appears to me.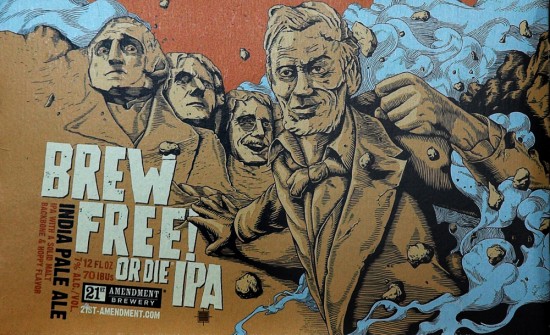 Told you it was awesome.


Sunday. A trip up to Moo Hampsha. Ugh. The Lady Friend was heading to her parents' house to help decorate the Christmas tree, and they requested my help for a very special project: distract Maggie the Kitten so she wouldn't mess up the tree while they were hanging ornaments. Welllllll… ok. If I must.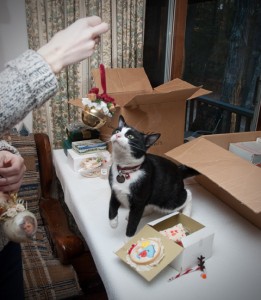 I wasn't entirely successful.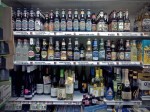 On the way, we stopped by a Stop n Shop in Stratham on the way to get me sorted with a Mix & Match six pack. I really wish all liquor stores had this feature. Many times I don't want a whole sixer of one particular beer, and just want one or two to test it out. I managed to make a pretty quick selection of some new and some old favorites:



– Geary's Hampshire Special Ale (an ale with a bitter start a Belgiany banana-ness to the finish. Ew.)
– Sam Adams Holiday Porter (too malty, not enough roast. A weak offering intended as a crowd pleaser like most Sam)
– Shipyard Blue Fin Stout (Drank this one after dinner. Nice dark roast, not too sweet, not too bitter.)
– Red Hook Winterhook (Nice. It has the ale flavor consistent with Red Hook brews, with some mild winter spice)
– Shipyard Fuggles IPA (Got two of these. It's simple, but good)
I started with the Winter Hook, and moved to the Geary's after. The Winter Hook wasn't bad, but the Geary's didn't appeal to me. A real bitter-stale start, then that yeasty banana-clove grossness usually associated with wheat beers. The Shipyard IPA went well with a dinner of spicy marinated chicken and roasted potatoes, and the Blue Fin Stout was lovely for after the meal. The Lady Friend drove us back to Assachusetts, and I had the Sam Holiday Porter to finish the night off. Not bad, but nothing amazing. It supports my theory that Sam Adams makes beers for a very wide audience, and doesn't want to offend. Still, it was a nice end to the weekend, and helped me ease into a happy slumber, another weekend gone too soon.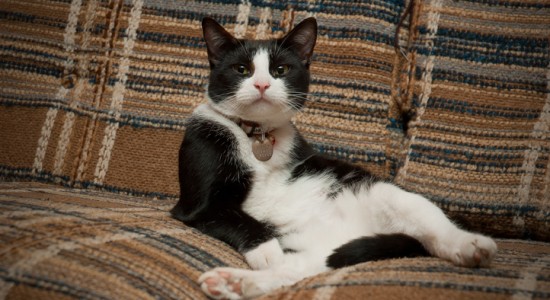 "Wut?"