Hold on to your butts, this is going to be a long one.




The dawn did done diddly dawned Thursday morning as JJ and her husband scurried about the apartment and left for work and classes, respectively. The Lady Friend and I eventually changed out of sleepy pants and rallied for the day's adventures. The one certainty on the schedule was a lunchtime visit to 21st Amendment Brewpub, but after that we were open until tentative happy hour plans with JJ. We decided to walk, since it was a couple miles away, and I like to wander and do some street shooting. Went down by the water to see the Bay Bridge on the way, and then were plenty ready for lunch and beer.




Slightly bigger than Memorial Bridge in Portsmouth, NH. Slightly.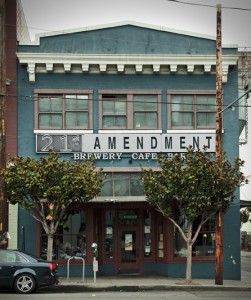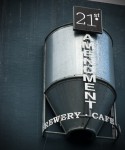 21st Amendment Brewery is a brewpub in the South Park area of SFO, and is apparently near AT&T Park, a baseball stadium that is a whopping 11 years old. How cute. Fenway is almost 100 years old, so suck it California. 21st is, of course, named after the Twenty-first amendment to the Constitution which repealed the Eighteenth Amendment of nation-wide prohibition. I've had several of their canned offerings including the Brew Free or Die IPA, Hop Crisis ImpIPA, and Hell or High Watermelon (of which I believe there's still a can in the Lady Friend's fridge.) While they don't have an official sampler of their beers, you can order a sample of each, which we did. However, the normal canned beers (which apparently are canned in Cold Spring, MN) were not on the list. They might have been on tap, but we were at a table instead of the bar, and didn't get a look. Here's what we got: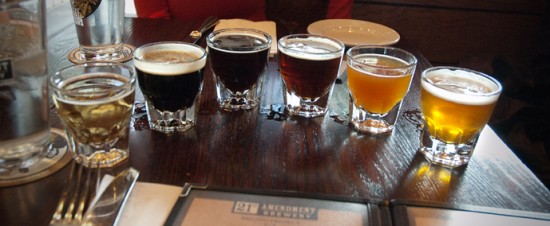 We tasted right to left.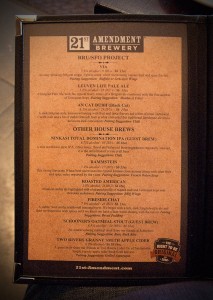 Ninkasi Total Domination IPA (Guest Brew)
Nose: Apple fruit. Slight malt. Very light and airy aroma.
Taste: Green, unripe tree/ stone fruit. Tart, apple.
Rammstein Bavarian Wheat
Nose: Banana clove. Sweet and aromatic. The Lady Friend described it as "circus peanuts" that marshmallowy orange candy.
Taste: Initial spiciness, eases off to a banana/ bubblegum wheat flavor.
Roasted American Amber Ale
Nose: Roasted malt/ barley. Not a coffee roast, but a TOASTED aroma.
Taste: Burnt toffee. Not syrupy. Not quite toast-like, but essence of golden brown crust, like fresh baked bread. Slight copper metallic, but very slight. We both really liked this one.
Fireside Chat Dark English Ale
Apparently they're canning this one, but I haven't seen here yet.
Nose: Very weak aroma. A stir with a fork yielded some slight fresh-baked cinnamon bread aroma.
Taste: Cinnamon raisin bread. Gives way to a slight syrup maltiness with a touch of roasted bitter.
Schooner's Oatmeal Stout (Guest Brew)
Nose: Roasted oats. Yep.
Taste: Bitter coffee, but eases off. Very smooth. Finishes with a roast bitterness lingering. Nice.
Two Rivers Granny Smith Apple Cider (Guest Brew)
Nose: Apple juice. Tart and sweet.
Taste: Tart start. Mouth puckering. Not too sweet, but finishes nice and apple-y. I'm not generally a cider fan, but this one was really nice, and not too acidic.




It was very lumber-y inside.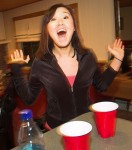 Following our sumptuous repast, we started wandering around with thoughts of heading down to a beer store where I planned to do some purchasing. However, though it began as a brisk, sunny day, by mid-afternoon it started to rain. Then pour. Plans for walking several blocks were aborted, and we about-faced to head towards Union Square. I had gotten in touch with a friend of mine from my former company, Qwadd Grafficks, who I met by chance on a tour of a printing plant in Wis-cahn-sin. She also turned up on one of our ski/snowboard house trips to Killington/Pico in Vermont (SnoHaus 2010). She left Qwadd to travel to France earlier in the year, and was now working as a bar manager in SFO. She traveled with two other Qwadd ex-pats, who, following the trip, became wine harvest interns in Sonoma County. Ke$hia Ho is a plucky little Asian girl with dance moves that demoralize any white boy within a seven-block radius, except perhaps Trevtastic. She rocks a New York fashion-sense, despite her Minnesota upbringing, and since I saw her last has developed quite an appreciation for, and knowledge of, cocktails. She had Thursday off, and agreed to meet us in Union Square, then hang out for the afternoon.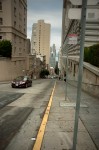 The Lady Friend and I ducked into a dark Irish sports bar to dry ourselves, just off of Union called Lefty O'Doul's, who is apparently some former baseball player. It was appropriately dark, dank and bar-like, so we grabbed a couple stools at the end of the bar and ordered up two Anchor Porters. When in Rome. Sidebar: it also happened to be International Stout Day. A porter may or may not technically be a stout, depending on who you ask, but I had the oatmeal stout sample at lunch so THAT TOTALLY COUNTS. Louie, apparently a regular, was having a grand old time a few seats down slurping Heineken's and hitting on the female waitstaff, who are plainly used to his advances. Ke$hia Ho strode in after a short time, and we departed for a bar called Top of the Mark, a hotel bar with commanding panoramic views of the city. Though the rain had stopped, this unfortunately meant hiking, and I do mean HIKING, up several of the steepest hills mountains I had ever encountered in a city setting. It's not even funny.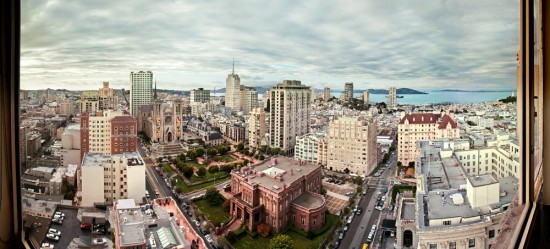 The view was pretty nice.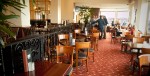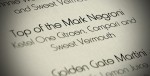 So, Top of the Mark is a ritzy little cocktail and piano bar, and we flipped through the extensive drink menu looking for a tasty tipple. However, something quite alarming caught my eye: the Top of the Mark Negroni, made with Ketel One Citron, sweet vermouth, and Campari. Wait… what? A Negroni made with VODKA?? Guess what tardclowns, THAT'S NOT A NEGRONI. I should NEVER have to specify that I want GIN in a Negroni. Ugh. They lost all credibility for that one. Unbelievable.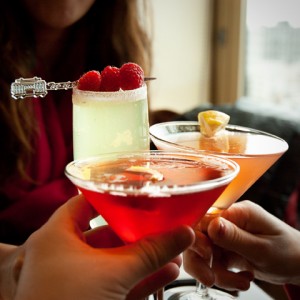 Despite the waiter's near unintelligible accent, we managed to place our drink orders, with Ke$hia Ho sipping on a French 75 (she had some champagne earlier in the day and wanted to keep the theme going) and the Lady Friend trying what she thought was a Tequila Sunrise, until something tasted a bit off. Turned out, she got a Tequila SunSET, which was Stoli, 1800, Grand Marnier and Grenadine. Take a tequila drink and dump in some vodka. What is the matter with this place? Anyway, the cocktails were pricey, the waiter unsuccessfully attempted claw his way through the English language, they massacre classic drinks, and we spent our time there next to a group of business types drinking Bud Light. In a cocktail bar. The only reason to go here is to see the views, which were very nice, but after you've seen it, there's no excuse to go back. Also, the bathroom, while elegantly decorated, had the distinct bouquet of a thousand haunted farts, with strong overtones of wet dog. Time to leave.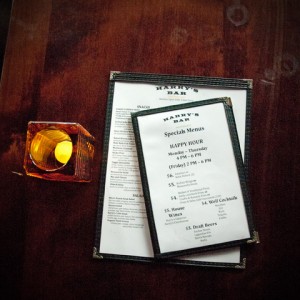 So, leave we did, thankfully taking the bus instead of walking, to a bar called Harry's to meet JJ for happy hour. Yes, SquirrelFarts, there is a Happy Hour. We're not in Boston anymore. Nothing too special about Harry's… casual, but nice, and dark. There were $3 drafts, including Lagunitas IPA and Sierra Nevada Pale Ale. Awesome. The Irish Lad isn't a fan of Lagunitas IPA, though I'm still not quite sure why. I think it's slightly pine bitter, but delicious.
As we were chatting, a girl came up to our table calling Ke$hia by some other name… I forget what. After some confusion, we figured out that apparently Ke$hia is this other girl's doppelganger. When the other girl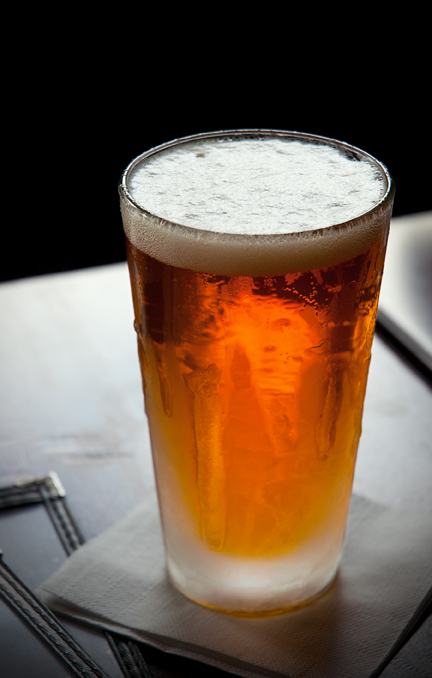 turned up, it was a pretty close match, and mild chuckling ensued. We had a few munchies until JJ arrived, looking rather drawn and haggard. A nice pint of Sierra Nevada revived her, and we all headed to a Peruvian restaurant for dinner, though some of us would have much preferred a slice of pizza.
The place was named Fresca The roasted chicken looked tasty, and that happened to be the one thing on the menu that the kitchen was out of. Super. So, I said I didn't want anything else, and started doing some tasting notes on my Cuzqueña Peruvian lager (no nose whatsoever, a slight skunky "green glass" lager taste with some cereal grain sweetness. Also of note: it's allegedly the only South American beer that adheres to the Reinheitsgebot; the German purity law that says beer must be made only from water, barley and hops.) I'm not sure if the notebook did it, (although I have had strange things like this happen before) but all of a sudden the waiter came back saying there was magically ONE more chicken in the kitchen, and would I like it? Um, sure. Maybe they thought I was some sort of reviewer or critic, but whatever the reason, I got my chicken. And it was tasty. As were the accompanying french fries I very nearly inhaled.
After that we called it an evening (since it was a work night for JJ). Ke$hia hopped a bus with plans to meet up with us again the next day, and the remaining three of us stumbled back down Fillmore to the apartment for another night of futon slumber. This was just day one: more drinking adventures to come!