The Monday Hangover:
Other drink adventures of note from the weekend.


Cocktail night started off slow and easy with a soothing Negroni and a home-cooked meal, rather than the usual takeout. Saturday was the real drink adventure, as the Lady Friend and I ventured out into the stormy wet afternoon to attend the Curtis Liquor Annual Fall Beer Tasting.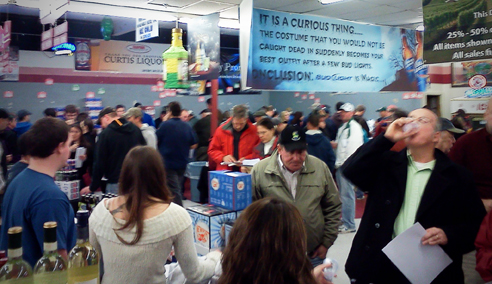 Yowza. Bigger than I expected.


With something silly like 20 breweries serving 100+ beers, this was a crazy event for a retail store. About 1/3 of the store was taken over with folding tables and some great breweries. We wandered in with a list of all the beers available, and the Lady Friend wondered where we should start. There was a bit of a lull in front of Oskar Blues, so I replied "Right here." They're the ones responsible for the incredibly hoppy Dale's Pale Ale, however we went for their Old Chub, a Scottish style ale, dark and malty. From there I don't remember the order of our tastings, so here's the rest.
Lost Sailor IPA Berkshire Brewing Co. (MA)
Nose: Weak nose… not much hop, but a mild cereal grain sweetness.
Taste: Good malt/ hop balance. Crisp and clean.
Northern Hemisphere Harvest Wet Hop Ale Sierra Nevada (CA)
Nose: Wow hop. Wet, green and grassy. Well, not quite grassy, but like a lush, juicy, unripe fruit. Watery, but not weak. Spring rain.
Taste: Lush hop start. Gradually turns to the bitter hop flavors. Very juicy and almost, but not quite, tart, like an unripe apple. I bought a bomber of this to try some more. It was wild.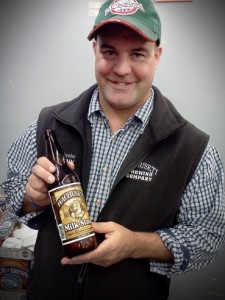 Milk Stout Wachusett Brewing (MA)
They were out of the Larry IPA, which is a fantastic brew, so we both went with the milk stout. I didn't know Wachusett HAD a milk stout, but apparently it's been out for about a year and a half. The server was a wild character… would love to see his version of a brewery tour.
Nose: Coffee roast nose. Um. Yeah that's all I got.
Taste: Smooth, slight syrup. Good roast bitter but hint of sweetness. Very nice. Smooth and creamy without being too sweet.
Pumpkin Ale Wachusett Brewing (MA)
The server initially poured me this one instead of the Milk Stout, so I drank it anyway.
Nose: Mild nose. Not really much to smell.
Taste: Subdued fall/ spiced taste. Not too strong. I don't really like pumpkin beers, but this one was pretty mild and drinkable.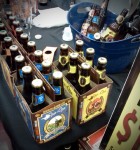 IPA Opa Opa (MA)
Nose: Weak nose with a mild fruitiness
Taste: Lots of malt. Some bitter hop in the middle, but very caramel malty overall.
Stowaway IPA Baxter Brewing Co. (ME)
We were planning to visit Baxter on our Maine Beerventure, but didn't feel like making the long(er) trek upta Lewiston. This turned out to be a great chance to try their brews (all canned).
Nose: Sweet tree fruit hop, like citra.
Taste: Sharp! Bitter pine hop. Very sudden and arresting. Evaporates quickly. The second taste eased off leaving elements of sour, unripe tree fruit. Certainly an experience.
Extra Pale Ale Baxter Brewing Co. (ME)
Nose: Very foamy head. Smells cereal and/or fruity sweet.
Taste: Starts with a cereal malt. The hop bitterness eases in, but then finishes with a slight rubber staleness as I get with Czech Pils. I attributed this to green glass bottles, but since Baxter is canned, that theory doesn't hold. Discussed it with the Irish Lad, but results are inconclusive. This will require more tasting and geekery!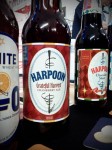 Grateful Harvest Cranberry Ale Harpoon Brewery (MA)
Nose: Very typical Harpoon nose, if that makes sense. It literally smells like most of their other beers, like the Munich Dark Lager.
Taste: Starts light, like the Oktoberfest, then turns sour. A tart, cranberry taste oozes in. Meh.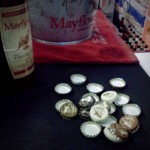 Thanksgiving Ale Mayflower Brewing (MA)
Every year, Mayflower brews a signature small batch of beer for Thanksgiving, available in limited quantities. I hadn't ever had one, so we tried the 2011 offering.
Nose: Fruity sweet. More depth than just a malt aroma.
Taste: Thick, syrupy mouthfeel. Starts sweet, moves to a bitter roast, but not too sharp. Finishes almost stale, like a wet forest with rotting wood. Earthy and dank.
Perpetual IPA Tröegs Brewery (PA)
Hopped with Citra, Cascade and Nugget
Nose: Sweet Citra tree fruit nose, like nectarine.
Taste: Starts with the sweet Citra fruit, then delves into Piney Nugget-ness. Yum.
After the tasting, the Lady Friend snagged a sample 12-pack of the Tröegs. I guess she was impressed. They do make tasty beers.
Southern Tier 2X IPA Southern Tier Brewing (NY)
Ooooooh mamacita. Southern Tier makes some goooood beers. The next step up from this is their UnEarthly Imp IPA, which I've had and enjoyed many a time.
Nose: Malt. Some hop. Light body, light hop. Fruity and floral.
Taste: Malt start. Hop bitter in the mid and finishes slightly bitter as well. Quite nice.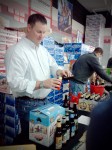 Black IPA Otter Creek (VT)
This was at the Long Trail table, but I've had most of what Long Trail has to offer, so I went with this. The did have the Long Trail Imperial Stout (Brewmaster's series) which the Lady Friend tried.
Nose: Hoppy bitter with some floral notes.
Taste: Piney hop start gives way to a bitter coffee roast mid. A clean, non-syrupy finish.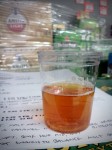 XXXX IPA Shipyard Brewing (ME)
Again, I've had most of Shipyard's stuff, but I got the Irish Lad a bottle of this quadruple-X IPA and he seemed to enjoy it. Hadn't tried it for myself, so went for it.
Nose: WOW – MALT. Malt malt malt. Like a caramel candy. Werther's Original. Butterscotch.
Taste: Sweet and syrupy. Some hop in the mid, but not nearly enough to balance this malt bomb. Now I know why the Irish Lad liked it… he's been going malty.
Guinness Black Lager Guinness (IRL)
Guinness's Black Lager just came out a few months ago. I had heard about it from someone, but hadn't tried it for myself. According to the promo girl, their main competitor is Heineken.
Nose: Light, and lagery.
Taste: Light pilsner lager taste. Foamy head. Pours a dark color, due to the brewing process, though there really isn't much of the roasted barley taste you'd expect from a pour this dark.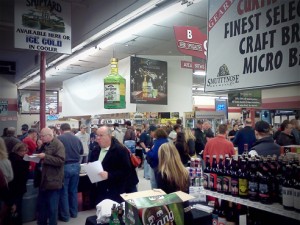 Beer beer beer!


Naturally, the big local breweries were all in attendance, like Samuel Adams and Harpoon, and there was a strong showing from regional favorites like Mayflower, Blue Hills, Berkshire, Wachusett, and Opa Opa. Some great unexpected appearances by Oskar Blues (CO), Tröegs (PA), and Southern Tier (NY), though Saranac was a no-show. I found most of Saranac's brews pretty uninspiring but was intrigued by their India Brown Ale, and the Lady Friend wanted the Vanilla Stout.
Following the beer tasting, we had some dinner before trekking up to Cambridge for an annual Halloween party with some friends of mine, an event not to be missed. There was an abundance of nice beer to start (the Lady Friend snatched up and hoarded a Bear Republic Racer 5 IPA) though someone later on plopped some Narragansett tall boys in the cooler. I guess the Samuel Adams winter pack is out, since I was able to grab a Samuel Adams Chocolate Bock, then their Old Fezziwig. The bock was very rich and dark chocolatey, while the Fezziwig was a bit too like their winter ale… spiced and kinda gross. There was that snowstorm that everyone is still complaining about, and we drove back in a slushy wet nightmare of a highway, though without serious incident. Bonus: when I looked out the window the next morning, not a drop of snow to be seen. Suck it, Western MA.