The Monday Hangover:
Other drink adventures of note from the weekend.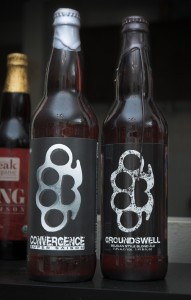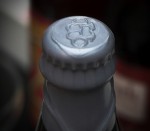 Naturally, the weekend started with a trip to Curtis Liquors for some beer browsing. I had recently heard of Backlash Beer Company, and happened to see their two brews, Convergence and Groundswell on the shelves. Of course, they wound up in my clutches, and will be reviewed (hopefully) soon. A cool feature: they dip the bottle tops in wax (a-la Makers Mark, Knob Creek and other bourbons, but somewhat unusual on beer bottles), and put a cool logo stamp on the top, like a signet ring. Nice touch.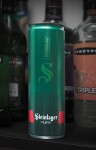 Also liberated from Curtis was a six-pack of New Zealand Breweries LTD Steinlager Pure. Beautiful matte-finished green cans, slim due to their 300ml (10.1 oz) volume. Purchased almost purely for aesthetics, and again, an upcoming review. It tasted like any other lager, but was on sale for $5. It may still be cheap beer, but it's FOREIGN cheap beer!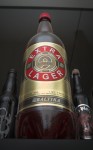 Apropos of cheap beer from foreign lands, the main score: Baltika Brewery Grade 9 "Extra Lager." I had mentioned this one before when I snagged the glass pint-sized bottle and yearned for the 1.5l. No such regrets this time… The 1 quart, 1 pint, 3 oz plastic-clad wonder was mine for the equally wondrous price of $3.75. That's 51 oz of beer, which breaks down to 4.25 beers, or 88¢ per drink. At 8% abv. Looking forward to a fun evening when I unleash this Russian monster. I swear I heard it whisper "I must break you."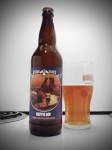 Before our cocktail night, the Lady Friend and I also sampled a Clown Shoes Muffin Top, which is described as a Belgian-style tripel IPA. It was… interesting. Hoppy nose with a hint of Belgiany-wheaty-banana lurking underneath. The wheat is much more prevalent in the taste, though with plenty of IPA hop to confuse my mouth. It was good, but I much prefer the Tramp Stamp, which leans more towards the hoppy versus the Belgian wheat flavors. Still, at 10% abv, it was just the thing to kick my Friday evening into gear, and motivate my apartment cleaning activities.


Saturday brought a perfect fall day with big cartoon Simpsons clouds, ideal for a baseball game. I play with some former coworkers, and this was our "World Series," the final game of the season. The Knives slashed The Guns 9-8, though it was a well-fought battle. Following the game, we convened for a backyard barbeque and, of course, a wide selection of beers. The Lady Friend and I brought Harpoon's 5:30 club mix pack, containing the IPA, Munich Dark Lager, UFO White and Belgian-style Pale Ale. My consumables were, as near as I can remember, the following: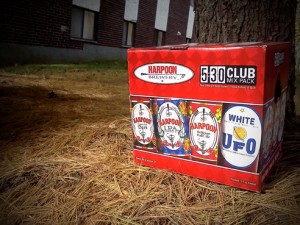 – Harpoon IPA: nothing wrong here. Always a pleasure.
– Samuel Adams Bonfire Rauchbier: it didn't smell like smoke (Rauchbier is literally a smoked beer… it's odd, and lovely in small doses) but there were elements of charcoal in the taste. Not bad, but not stunning. I have a feeling they kept the smoke flavor subdued to keep the masses happy. Nothing like the rowdy Bamberg boys.
– Trinity IPA: from the Trinity Brewhouse in Providence, RI. I've been there several times, and their IPA is outstanding. They only sell their six-packs near Providence, but luckily someone hoofed it up from the Island of Rhode.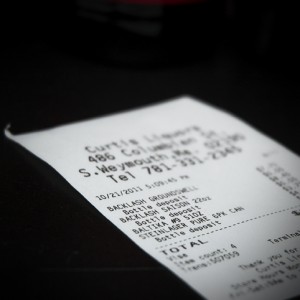 – Samuel Adams Black Lager: well, most people brought Harpoon beers, but someone brought a Sam sampler. I've had all the Harpoon ones that were at the party, so I took to trying a couple of these Sams. The black lager had a light body but mild roasted flavor. Not bad. Acceptable, but again, like most Sam beers, seemed to be dumbed down for mass appeal.
– Samuel Adams Boston Lager: like the Harpoon IPA, this is a go-to in Boston. Nearly every bar in the city serves this flagship brew, and given the choice between this and the usual macrobrews, I'll happily chug this every time. Lots of flavor for a lager; if you think it's "too strong," then maybe you shouldn't be drinking beer. You really can't go wrong here, and Sam Lager has probably helped countless lost souls over to the land of craft beers. For that Sam, I thank you.