The Monday Hangover:
Other drink adventures of note from the weekend.


Following a trip to Curtis Liquors, I returned home with a sample pack of Mercury Brewing Ipswich Ales, including their Original Ale, Summer Ale, and IPA. I cracked an IPA (very nice, decently hoppy, but not out of control) before cocktail time. I finished the evening with an impulse buy, a Baltika Batch 9 lager.
Ok, the story here is that I saw what I swear was a plastic two litre bottle of this beer on the shelf. (UPDATE: Apparently it's a 1.5l plastic bottle) For about $4. I almost bought it, because a) it's 2l of beer for $4 and b) it was probably FANTASTICALLY horrifying. Then I noticed a pint bottle (this one was actually glass) on the shelf below for about $2, and decided that was a better idea. I took a closer look at the label and found that it was from St. Petersburg, Russia (awesome potential for a horror show) and that it was an 8% abv lager. Yikes. Bring it on. It smelled quite fruity, with a hint of alcohol to it, but tasted surprisingly pleasant. I was expecting much much worse, and was actually a bit disappointed that it was so drinkable. Best comparison? A malt liquor forty. It's got that fruity, over-boozed taste to it, like they took a cheap lager and upped the abv with some grain spirit. I might very well go back for that giant plastic bottle.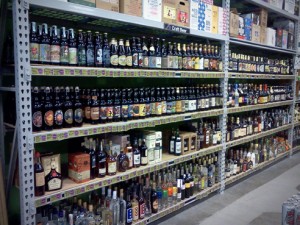 Saturday began with a recon trip to Bin Ends, a new-ish liquor store in Braintree, near the South Shore Plaza mall. They deal mainly in wine, but also have a very nice craft beer selection (including the entire lineup of Clown Shoes brews) and an interesting offering of spirits. The staff was very nice and knowledgeable, and I snagged a Clown Shoes Tramp Stamp, and their new release, Muffin Top. I was also intrigued by something that caught my eye right at the front register; several bottles by Meletti, including a sambuca, and anisette, and an amaro. As I was explaining to the Lady Friend what an amaro is (a bitter Italian liqueur, used as an aperitif, or digestif), the clerk seemed impressed that I knew what I was talking about. I wound up buying the bottle of amaro as my bottle of the month (the way I build my bar is to budget myself to one new bottle of liquor per month). I usually aim for under $30, and the amaro clocked in at a very reasonable $18 (a 750mL bottle of Campari, a very well-known amaro, will run around $30 in MA). The Lady Friend wound up with a bomber of Unibroue's Trois Pistoles, a Belgian strong dark ale she had enjoyed at one of Irish Lad & Wifey's gatherings, some bottle of Malbec wine, and an inexpensive sparkling for further sabering adventures. Bin Ends was a score… great product, knowledgeable and friendly staff.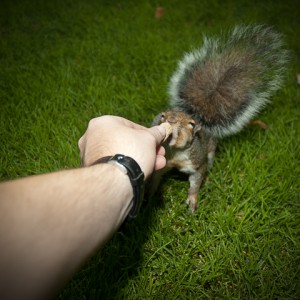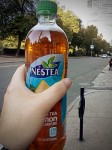 Following lunch, (with an Ipswich Summer Ale) we ventured into the city to feed the squirrels on Boston Common. Lady Friend was meeting a friend for dinner and a concert near Fenway, so we decided to lounge around the city for the afternoon, weather permitting. It wound up being above 80°, strange even for a New England October weekend. We packed a few travelers, the Clown Shoes Tramp Stamp, and a Bear Republic Racer 5, storing the amber nectar into some Nestea bottles for inconspicuous consumption in the park. Apparently, the police had their hands full dealing with some other dbags that day, so we sipped our cold tea in peace among the bucolic splendor of the Land of Squirrels.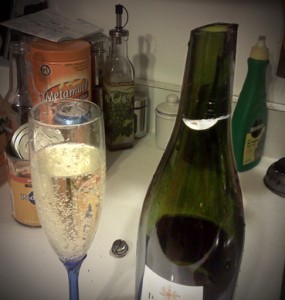 Once Lady Friend departed for her rendezvous, I spent some more time among the bushy-tailed rodents enjoying my buzz until I hopped the T up to Somerville to visit the Irish Lad and Wifey. She picked me up from Davis Sq. and we opened a bottle of prosecco back at the homestead. Did I say opened? Rather, we sabered it off. Tee hee. A glass of bubbly was enjoyed before the Irish Lad joined, and I suggested he try a Black Velvet. We mixed the prosecco with a can of Young's Double Chocolate Stout with very pleasant results. Better than Guinness, as there is an added element of the dark chocolate taste, nicely cut by the fruity wine. Irish Lad was a bit apprehensive at first, but then agreed that it was indeed a tasty tipple.
From there, we moved to a bottle of his recent homebrew, a hoppy brown ale. It nosed with a lot of hop, and tasted the same. There was a slight element of malty brown ale in the finish, but not quite enough, in my opinion. Since the brew has been bottle conditioning for about two weeks, we decided that with further conditioning, the overpowering hop would likely mellow, leaving a better balance in the taste. I got two bottles to bring home, which are currently fermenting further in the cabinet under my kitchen counter.
Lastly, he broke out a bottle of Harpoon 100 Barrel Series, #38 Dôcesná, which I found to be somewhat unpleasant. This seems to be a trend with the 100 Barrel Series, as we intensely disliked the Rye IPA. The Oyster Stout, however, is excellent. This Dôcesná creature poured medium dark, almost like a German dunkel, and smelled of Czech pils staleness. The taste was right in there as well, with a pils rubbery cardboard presence, and a slight dark maltiness to the finish. Ugh.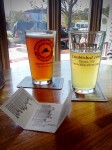 The Lady Friend and I reconvened the next day for lunch at the Union Brewhouse. We did some more work on our 99 beer lists, and she opted for an Opa Opa Pumpkin (Cask) Ale, while I started with a Hoegaarden Wit-Blanch, a very popular Belgian white ale. Second was a Lexington Brewing Kentucky Ale, tasty, though a bit forgettable, and lastly a Coastal Extreme Newport Storm Summer Ale, which is nicely hopped for a summer, and some call it an IPA.




Being Columbus Day, I had Monday off, and spent a good deal of it watching Ken Burns' documentary "Prohibition," while tasting an Ipswich Original Ale with lunch, finishing out the trio from Mercury Brewing. Dinner brought forth a Williams Brothers Joker IPA, and a post-meal tasting of the Meletti Amaro. More on that to come. Another drinktastic weekend drowned in intoxicants. Excellent.