Octoberfest season!
The ol' SquirrelFartsMail inbox started lighting up a couple weeks ago with notices of various autumnal October/Oktober festival drinking opportunities (I subscribe to quite a few drink-related newsletters). I generally avoid the larger gatherings, preferring smaller venues with easier (quicker) access to the beer. I don't like crowds; I don't like lines. Several of the festivals were listing ticket prices in the $40+ range, which I think is a bit steep, since that generally doesn't include food or beer. What am I paying for? The privilege of coming to your festival and spending more money? Blow me.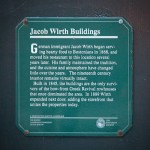 One of the emails caught my eye: Harpoon Brewery. Yes, I've been there many times and written about them here before, but since I'm a Friend of Harpoon (sign up… it's free) they send me various emails about deals and events that usually include a discount for Friends. The one that caught my eye was an Oktoberfest Kickoff night at Jacob Wirth, a German beer hall-style restaurant in Boston that's been there since 1868. The deal was that the first 50 Friends of Harpoon would get "a genuine Harpoon Octoberfest mug (1 Liter!) and 2 passes to Harpoon Octoberfest." Well, kinda, but more on that soon. It sounded like a good excuse to drink some nice German beers in the city on a Tuesday night, and I managed to talk the Lady Friend into it.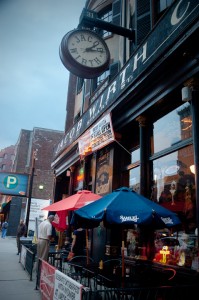 We met up at South Station (I had a couple Harpoon IPAs at Clark's and flipped through the latest BeerAdvocate mag while waiting for her to get out of work) and headed over to Jacob's (in a very roundabout path… I was using my beer compass). It's over in the theatre district, and has been there for about 6,000 years. It's definitely a place worth checking out, though I have a few tips: go on an off night (the bar area is extremely narrow and crowded), order good German beers (for the love, don't order a Bud Light), and be aware that the food is overpriced for what is essentially trumped-up pub grub, unless you want some of the crazy German food. The biggest widespread gripe with Jacob's has always been the quality of service; they certainly don't have the varsity squad of Boston's waitstaff here. There was a big kerfuffle last year where the owner apparently saw the negative reviews they were getting on Yelp, and called the waitstaff losers, telling them to shape up or ship out. Maybe that was an overreaction, but I've never been really satisfied by the service there, and apparently I'm not alone.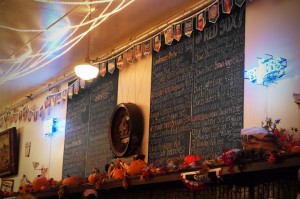 Now, it seemed busy for a Tuesday, and I'm assuming the Harpoon event was responsible for most of that draw. It was about a 10-minute wait for a table, which was fine, but once we sat down it took about another 10 minutes for any server to even acknowledge us. What? At least give me a nod or a quick "sorry, I'll be with you in a minute" so I know that you know that we're sitting here. Strike one. So, we ordered appropriately German beers (a Hofbräu Dunkel for me and a Fransiskaner Dunkel Weiss for she) and got our food order in while the waiter was nearby. I ordered a grilled chicken BLT, no tomato, no mayo. What I got was grilled chicken with lettuce and mayo. Really? Why is there mayo on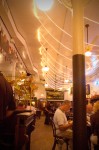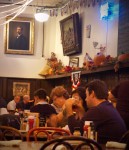 here, and where is my bacon? Strike two. However, I was hungry, and hate sending food back, especially in a place where it'll take another 20 minutes for a sandwich. I managed to snag a good place in the Harpoon line that was forming, and got my "genuine 1 litre mug," which was ACTUALLY a 20 oz glass, nowhere near a litre, which is 33.8 oz. Don't lie to me like that, Harpoon. Grabbed the free passes, and headed back to the table to finish dinner. We each had a second beer (me: Lammsbrau Dunkel, she: Spaaten Optimator) and then got the hell out of there.
The conclusion: go to Jacob's for some excellent, proper German beers, but don't order food. It's overpriced, takes forever to get to the table, and probably won't be what you ordered.


Hop in the time machine and fast-forward to Saturday.
Octoberfest Day!
The madness begins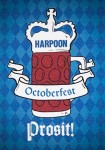 Saturday afternoon, we pregamed with a Brewdog Hardcore IPA before setting out for the Harpoon craziness. I've been to their festivals before, notably the Irish Fest, but never the Octoberfest. I had an idea of what to expect: long lines, drink tickets, and chaos around the beer taps. Octoberfest lived up to all the expectations, with probably over a thousand people there. On the other hand, we went into the much shorter Friends of Harpoon VIP line. Score. Then we saw the small print on the back of the free passes saying they were for Friday night only, not Saturday afternoon. Unscore. Wtf Harpoon? That's a cheap move. No one thought to mention that anywhere in the emails or promotions. Thanks. So we had to pay the admission like a couple of average schnooks, and in we went, through the brewery to the parking lot on the other side where the festivities were in full swing. Keg bowlers bowling, German girls' booben a-boobing, cake eaters eating, German oom-pah bands, um, oom-pah-ing, and everyone drinking. These things consist of two main activities… standing around talking or waiting in line. There's the beer ticket line ($5/ticket/beer. Not outrageous) before the actual beer line (and the bathroom line). They had their IPA, Munich Dark, UFO White, and, of course, Octoberfest beers all on tap. Pick a beer, pick a line. I started with the Octoberfest, then went IPA and Munich Dark. All Harpoon, all tasty.




Who ARE all of these people?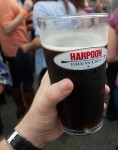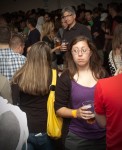 There weren't too many people over the age of about 30, and the ones that were really stood out, like "who brought their dad?" Of course, there were the hippie-dippies who always think it's awesome to bring their baby to the brewery, and a lot of girls who were actively on the prowl. Not always nice looking girls, but those bloated late-twenty-somethings who stagger along clutching their purse and their beer realizing that all their friends are getting married, and they'd better do something quick, so why not go to the beer festival and find a boy-man to pounce on? Great people-watching fodder, which is what the Lady Friend and I mostly did while consuming our delectable drinkables.




Too many people in between me and beer.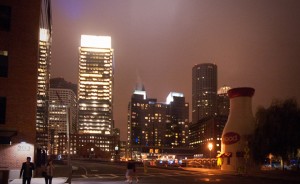 Just as we were getting ready to leave, a couple raindrops fell and sent the crowd into a noticeable level of apprehension; there were several large tents set up for the bands and beer, but the majority of the patrons milled around outside. No way they would all fit under shelter should the skies open up. The rain held off, however, and we left, heading over to Drink, despite the Lady Friend's determined efforts to ruin my surprise plans. After a short wait (there's ALWAYS a wait, though the overdressed cougars in line ahead of us kept bitching about their dinner reservations and left, despite the fact that we only waited about 10 mins or so) we sat right at the bar and started the magic. The Lady had a Mojito, and claims it was the best one she ever had, while I went with a variation on the whiskey sour called a Tennessee, which uses maraschino liqueur in place of simple syrup. A bit drier than a normal sour, but excellent.
LF needed food, so we pretty much called it a night at that point, though I could have stayed at Drink for hours, playing with different recipes. Back to SFHQ for the night. Gute nacht, eichhörnchen furzt!