The Monday Hangover:
Other drink adventures of note from the weekend.


Let's see if this works. Basically a section to sum up the other tasty imbibables consumed during the weekend that didn't get their own post.


The trouble started Friday evening, when I stopped by Curtis Liquors with beer on the brain. I shouldn't be allowed in there unsupervised.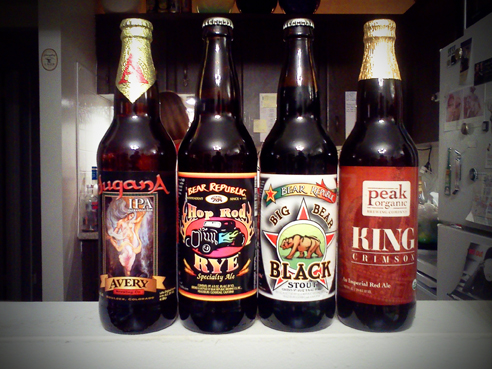 Going to the liquor store on payday is dangerous.


However, Friday night is cocktail night, so the beer wonders would have to wait. This week's new cocktail was the Nautilus.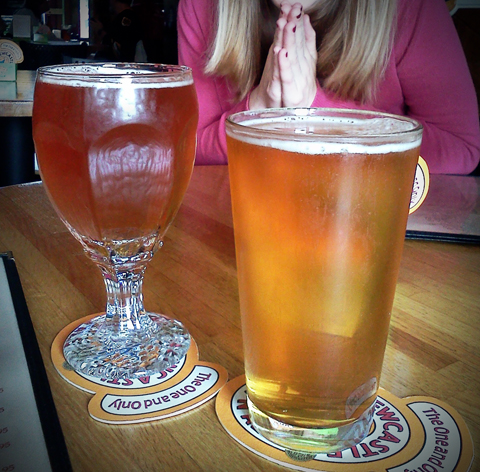 On Saturday the Lady Friend and I lunched at the Union Brewhouse, further making our way down their 99 bottle list. Apparently, there is an updated list (it says Series #3 in the corner) and our waitress generously offered to transfer our progress onto a new card, since several breweries have been added or dropped from the list.
I started with a Jack's Abbey Hoponius Union India Pale Lager (yes, India Pale LAGER) on tap, on a recommendation from the Irish Lad. Strangely, I got a heavy aroma and taste of mint in this brew. Lady Friend went with the Bear Republic Mach 10 Imperial IPA, which went on draught at the Brewhouse earlier in the week (and was the main reason for going there.) I went with the Mach 10 for my second bev (very good, more malty than hoppy), and she chose a Tuckerman Brewing Pale Ale.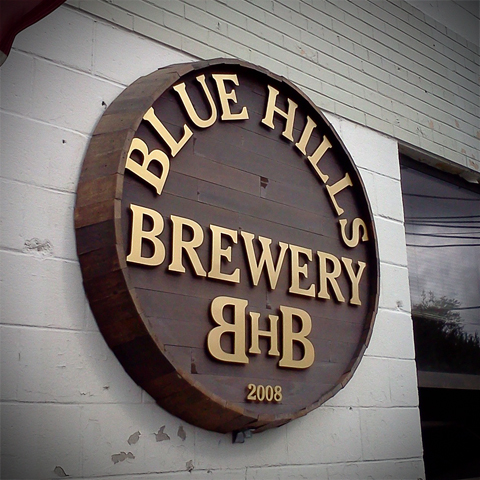 From the Brewhouse, we popped over to Blue Hills Brewery in Canton. I'd already done a writeup on them before, so this was a social visit for a tasting, and to purchase a couple beers. We went through the sampling of their Watermelon Wheat (I passed on that one), Wampatuck Wheat (discounted bombers available currently at the brewery), Pub Draft IPA, Antimatter, Oktobrau, Black Hops and Imperial Red IPA. That actually sounds like a lot more beer than we had. It was all tasty as usual, and we chatted with a couple on their own beer tour from Norfolk, VA (they had stopped at Trinity Brewhouse in Providence earlier that day.) We purchased two Imperial Red IPA bombers (one for Irish Lad) and an Oktobrau and were on our way.



Since plans with Wifey and the Irish Lad fell through, we shrugged and went back to the Brewhouse. We even sat at the same table, but in different seats so it's totally cool. I opened with a Cape Ann Brewing (Gloucester) Fisherman's Brew, followed by a tasty Green Flash West Coast IPA, and finally a Goose Island Honkers Ale. The Lady Friend had a Tröegs HopBack Amber Ale, something from Stoudt Brewing, and a third I can't remember. I can barely keep track of my own beers, never mind hers. (UPDATE: Apparently it was Peak Brewing's Fall Summit Ale.)


Finally, it was back to SquirrelFarts HQ to continue the beer mayhem. We decided to crack a few bombers, and dove in with the Stone 15th Anniversary Escondidian Imperial Black IPA. Lady Friend LOVED it. I think she really enjoyed the roast bitterness of the toasted malt, but with some hop behind it. I will admit that it was quite tasty, but now I know the Lady Friend might enjoy some other black IPAs (a bit of a misnomer as it's somewhat of an oxymoron to have a BLACK PALE ale. The craft beer world is still sorting that one out.) For dessert, it was time for a knockout punch, and we went with a big boy I had stashed in the back of the fridge: Avery's Maharaja Imperial IPA (10.3% abv). There's a bit of discussion attached with this one as well, since it's such a killer malt bomb, that it borders on barleywine territory, yet still classifies as an IPA. The beer geeks are clamoring for a TRIPLE IPA category, as this one is on the far reaches of double/Imperial IPA land.


I had a shoot on Sunday, and Lady Friend went to visit her parents, so that did it for the weekend.
…unless you count the Redhook ESB I snagged in the afternoon.
…and the Anderson Valley Hop Ottin' IPA after the shoot. Whoops.