Ok, I've got to get this out of the way right now.
That song goes through my head every time I think of the name "Albany Pump Station."
Pump it up
A little more
Get your body moving on the dance floor


Have I started yet?
I have?
Ok.


The Lady Friend and I departed Beeracuse and headed to the wondrous Capital Region to meet up with some friends of mine just outside of Albany (actually outside of Schenectady, a town with the most ridiculous name… Niskayuna, not easy to type into a gps while on the Thruway). We got to see the newly-relocated Casey Sage, a golden retriever who loses her furry little mind every time she sees me, and the resident pooch, Rosie, a black lab. Critter Count: 12! Five of us (humans) went to the Albany Pump Station for some grub, and a beer tasting for me. Sadly, the pups stayed home (in separate rooms; they get into mischief together).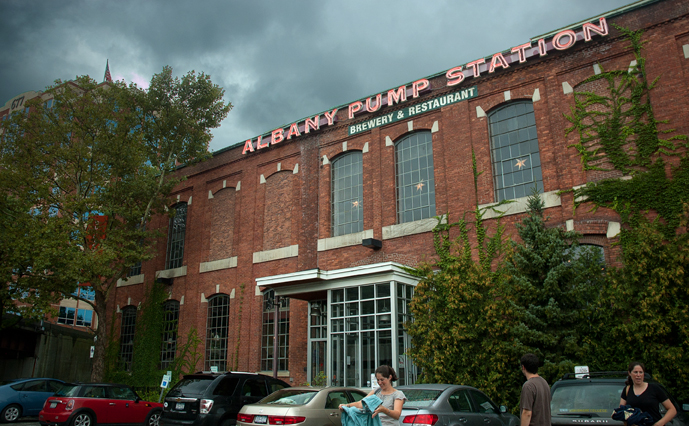 The Albany Pump Station, formerly the Quackenbush Pumping Station, was used to pump Albany municipal water from the Hudson River. A guy named Neil Evans bought the building in 1999 to build a brewhouse, bringing his family back into the brewing world. The Evanseseses had started a brewery way way back in 1786 in Hudson, NY, but, like everybody else, got closed down by Prohibition in 1920. According to their website, they were quite popular, even exporting to England and France. They also boast one of the country's first bottling facilities in 1889, and even malted their own grain. The Pump Station is a solid two story brick building; very cool and industrial looking. Two giant cranes still hang inside and were used to haul the brew tanks up to the second floor, where they now sit making gallons of bubbling happiness.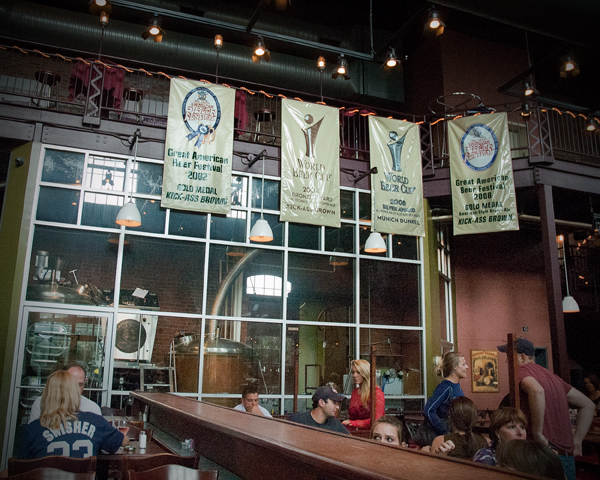 It was certainly a cool place, and hopefully the beers would hold up. I've been let down before, but Albany Pump Station (C.H. Evans Brewing Company) more than rose to the challenge. I was the only one in our group to tackle the eight (8!) beer sampler for a very reasonable $7, though the other male with us stepped up and had a hefeweizen. Before the food came, I got to wander around and take a few shots. They opened up the main dining area by cutting away most of the second story, and you can look down on the whole place from the upper mezzanine.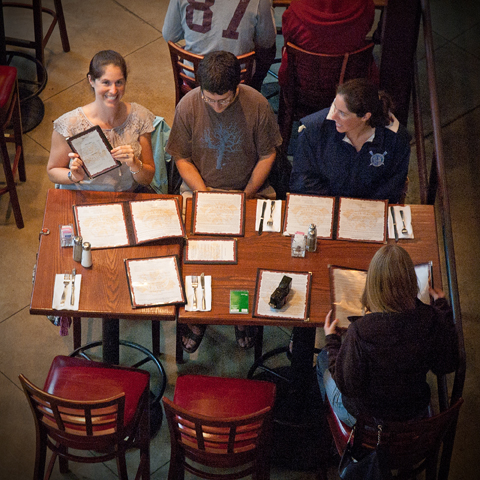 Hi, BBack!


The group consisted of my friend from Maine, BBack, who had just moved to the area for a teaching job. Her twin sister, and the twin's husband had been living in Cambridge for awhile before moving to Albany a couple years ago. BBack's husband is the owner/operator of previously mentioned Blue Line Apiary in Maine, and he's due to follow to NYState soon. Naturally, the Lady Friend was present as well.
When the beers came I scuttled back downstairs to start the sampling. The group was somewhat intrigued that I go to the trouble of taking notes, though Lady Friend was all too used to my nonsense and wasn't fazed in the slightest.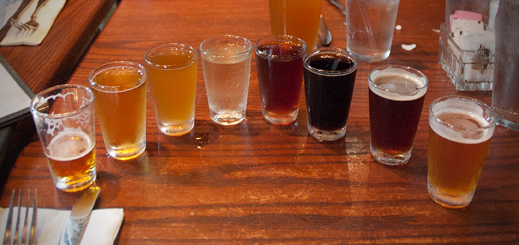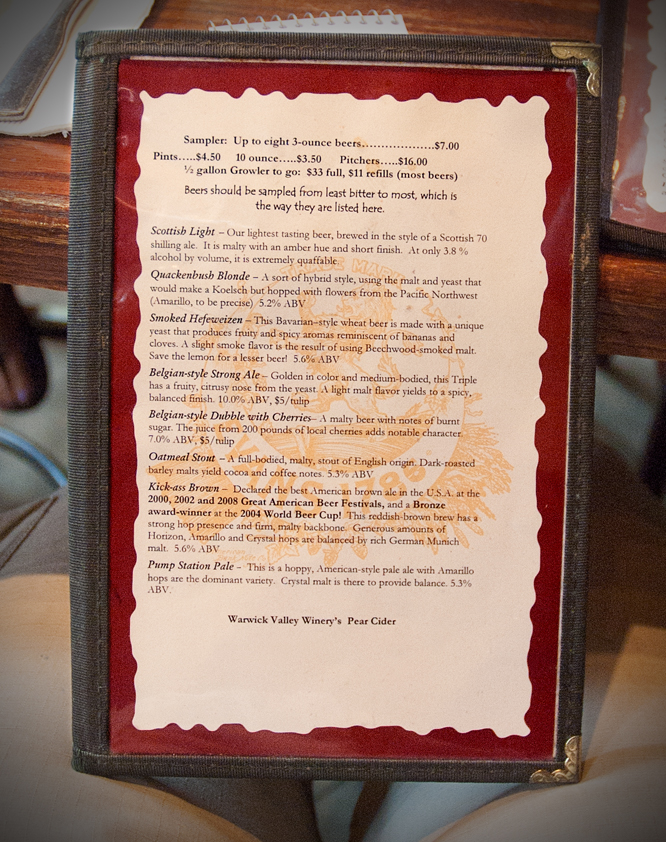 Scottish Light
Described on the beer list as "an amber hue and short finish."
Just like me!
…wait, what?
Nose: Sweet cereal, barley, with a slight cherry fruit
Taste: Cereal. Barley. Very refreshing.
Quackenbush Blonde
…I knew a Quackenbush blonde once…
Nose: No discernible aroma
Taste: Cheerios! Also had a light, floral hop flavor.
Smoked Hefeweizen
Nose: Banana wheat hefe smell. Slight smokiness. Everyone else smelled much more smoke than I did.
Taste: Cinnamon/ clove with a slight smoke finish. Not bad for a hefe.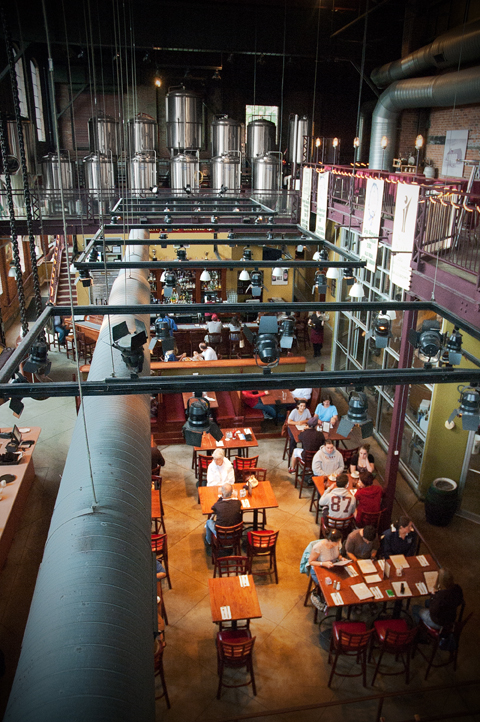 Doc's Pear Cider
They were out of the Belgian-style strong ale, and BBack wanted to try the pear cider, so I requested this as a substitute. A good choice.
Nose: Um. It smells exactly how you would expect pear cider to smell. Sweet and pear-y.
Taste: Light and crispy. Nice pear flavor with a touch of tart sweetness. Lip smacking. Very tasty. I am not generally a fan of pear flavors, or cider in general, but this was really good. After my taste, BBack drank the rest and I was sorry to see it go.
Belgian-style Dubble with Cherries
Nose: Mild, dark cherry aroma
Taste: Belgian wheaty texture, though no banana flavor. A tart, cherry syrup sensation with a malty roast.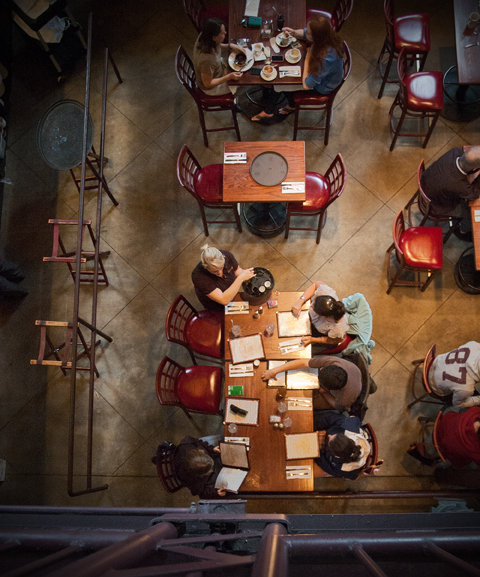 Oatmeal Stout
Nose: Roasted malt. Slight sweetness detected.
Taste: Nice bitter roasted flavor. Dark and malty. Delicious.
Kick-Ass Brown
Nose: Sweet, with a hint of lemon fruit.
Taste: Malty with some lemon. Smooth. Low carbonated mouthfeel. VERY nice flavors. More going on here than a regular brown.
Pump Station Pale
(Amarillo Hop)
Nose: Piney hop aroma, though not overpowering. Some tree fruit juiciness.
Taste: Very nice. Bitter hop balanced well with the malt sweet. Yum.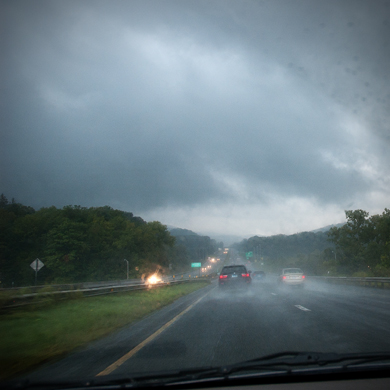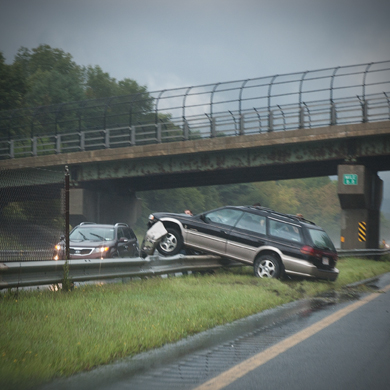 Our food came as I was finishing up the tastings, and everyone was impressed with the size of the sandwiches. Very tasty, and good fries. The New Yorkers picked up the check for my birthday (thanks!) and Lady Friend and I hit the Thruway back to Boston, battling traffic and downpours the whole way back turning an easy cruise into a demolition derby. We made it back unscathed, unloaded our precious cargo, and I finally got to sleep in my own bed of awesomeness. I declare the 'CuseQuest completed!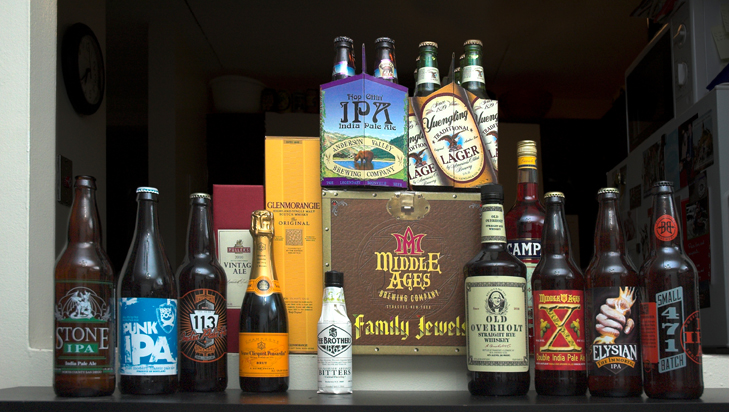 Treasures from the journey!