Mama noooooooooo!
Wine day.
No more Beeracuse; time for the Finger Lakes region and many many (many) wineries and vineyards.
What a c-bomb.
OW! OW! STOP HITTING ME! I MEANT "COMPROMISE!"
Geez. "Compromise" is the c-bomb I was referring to. Stupid compromise. That's how I talked the Lady Friend into this trip in the first place… there are a silly number of wineries and vineyards scattered around the Finger Lakes, and of course, she loves wine. I… do not. I don't hate it, but between cocktails, beer and wine, it's third on the list. Besides, compromising is silly. I should just get my way all the time. Everyone would be much happier that way. Mostly me.


Anyway, we left Syracuse and started driving west on Route 20, a roller coaster road of small mountains and farmland. The Lady Friend had some targets in mind, mostly around Cayuga Lake. Our first stop was Montezuma Winery, located on Rt 20 in Seneca Falls. Heads up: our GPS said it was about three miles farther than it actually was. I'm thinking they know about this, since about 1/4 mile past it, there's a large sign that proclaims "You just passed Montezuma Winery!" After a semi-legal U-turn, we drove back to the correct spot. When we walked in the place, however, something was instantly wrong.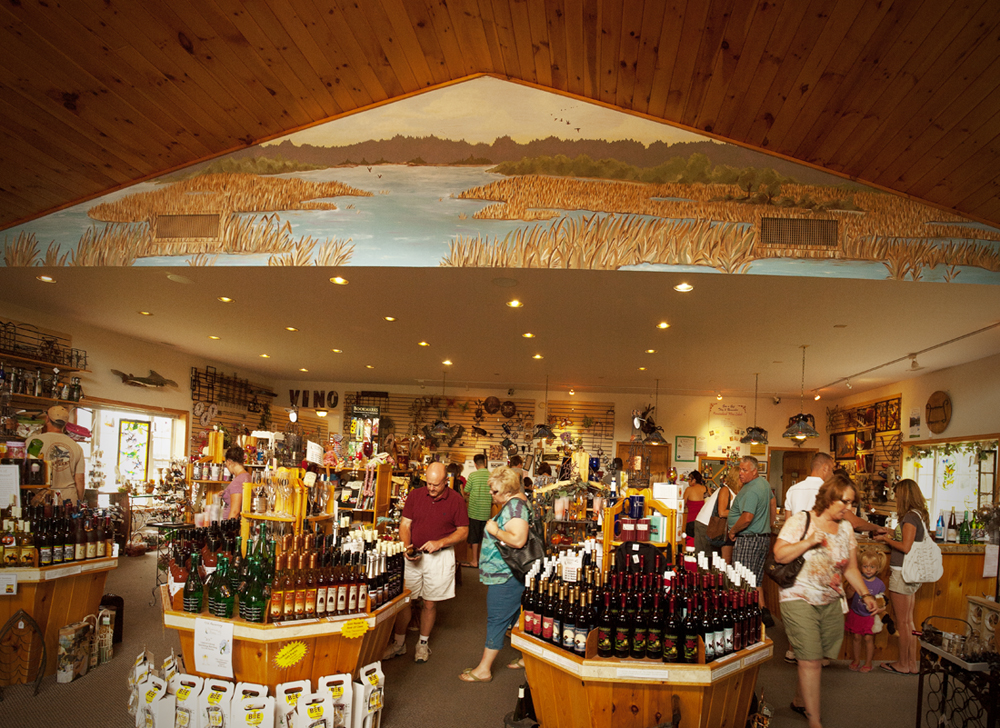 This is my idea of Hell.


It was horribly touristy and kitchy, as if a Christmas Tree Shop violently vomited after consuming some undercooked poultry. Just… junk. Absolute CRAP. Little cutesy knicknacks everywhere. Holy chazzwazzers. However, in addition to being a winery (not a vineyard… they buy their grapes from elsewhere) they do have a small distillery, and offered a spirit tasting. See how sneaky Lady Friend is? She chose this place on purpose because of that. Wikid smaht.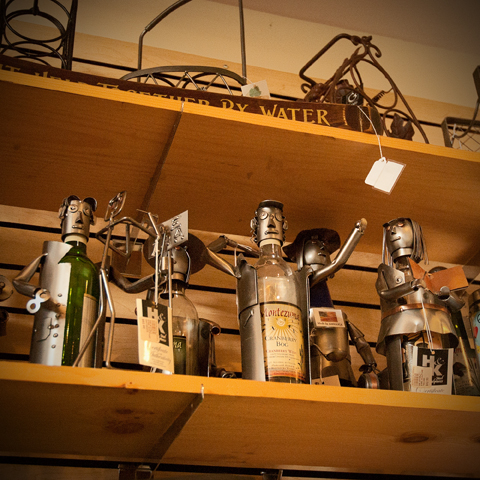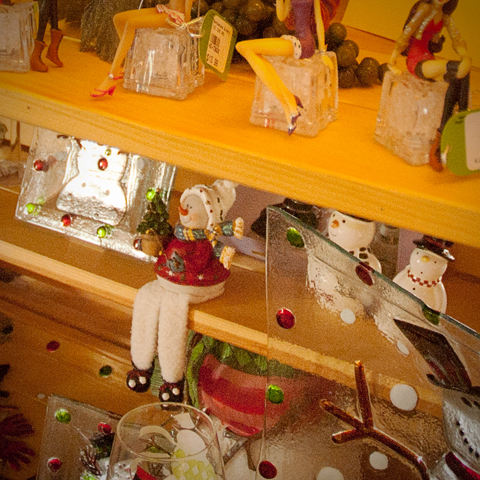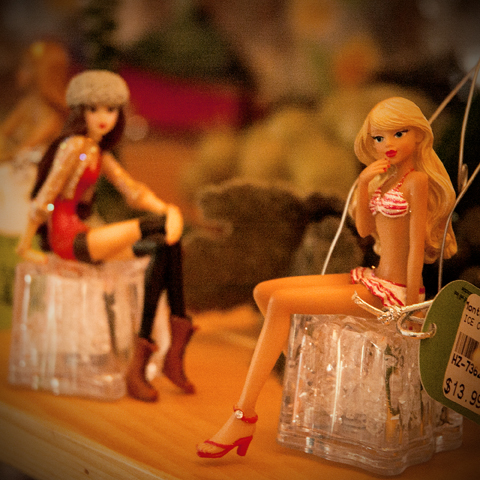 It'll take a large amount of liquor to make me ok with this. Also, they were selling Christmas decorations.
In August.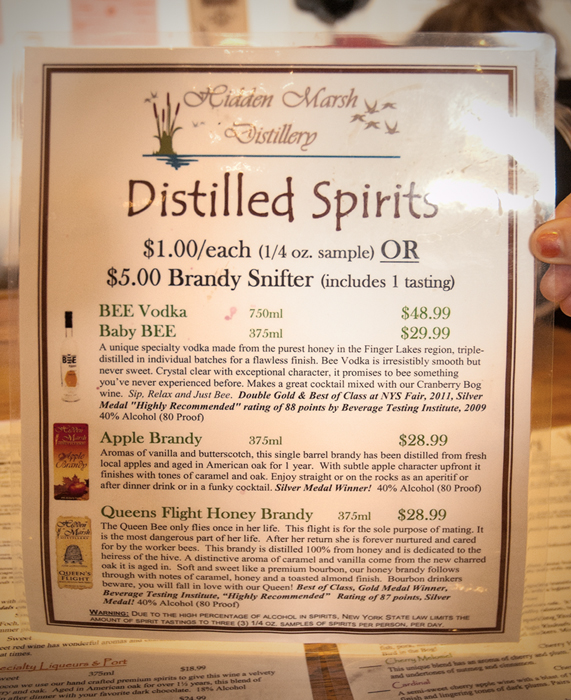 So she chose her wines, and I opted for a tasting of two of the spirits, since they made you pay PER spirit and I had no interest in their honey vodka. Lame. Also, noted on the bottom of the spirit list was a little tagline that read "WARNING: Due to the high percentage of alcohol in spirits, New York State law limits the amount of spirit tastings to three (3) 1/4 oz samples of spirits per person, per day." Um. Really? You want me to believe that NY State only allows you to have less than one ounce of spirit sample per day? I'm going to call shenanigans on that.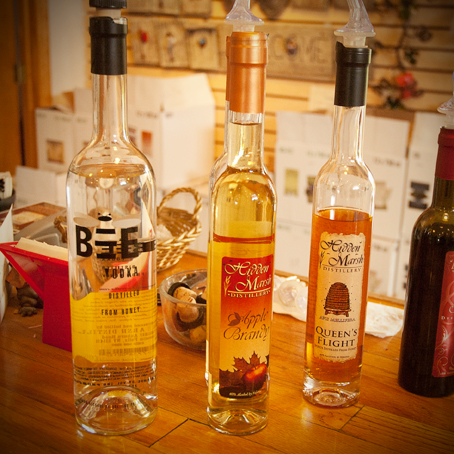 Apple Brandy
Nose: Apple aroma shines through the alcohol burn.
Taste: Sweet apple start. Alcohol wash through the mouth burns away the flavor, but finishes with a tasty, apply finish. Slight syrup mouthfeel.
Queen's Flight Honey Brandy
Distilled from honey and aged one year in bourbon barrels.
Nose: Honey, caramel sweetness with some vanilla.
Taste: Not as syrupy as expected. Initial alcohol burn evaporates to leave a sticky honey-vanilla bourbony flavor. Tasty and sweet.


So you've probably noticed a lot of honey going on, which is a bit odd for a winery. Well, apparently Montezuma started as an apiary, and produced a honey mead for a local Renaissance Fair(e). I guess they decided to go ahead with the wine thing from there. I didn't get the whole story. The servers weren't terribly friendly or forthcoming with info at this place, a trend we noticed through the rest of the trip.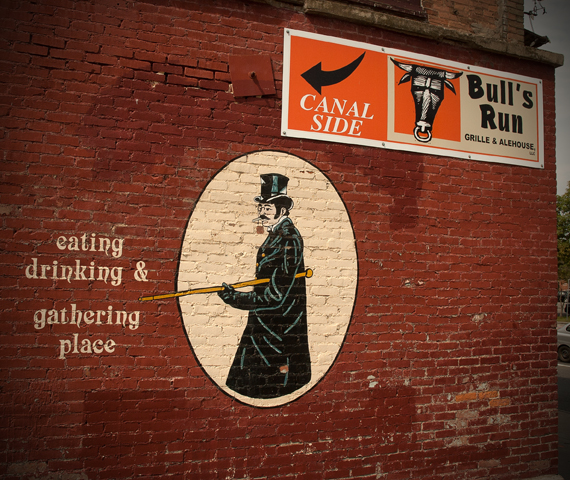 Mildly annoyed, we left to grab some lunch, popping over to Bull's Run Grille & Alehouse. The place was pretty empty when we went in for lunch, and somehow the service still took forever. The food was simple, but tasty, and Lady Friend had a couple glasses of white wine. I took the opportunity to grab a beer that I had never heard of. The waitress did give me a sample to try, which is always a nice touch.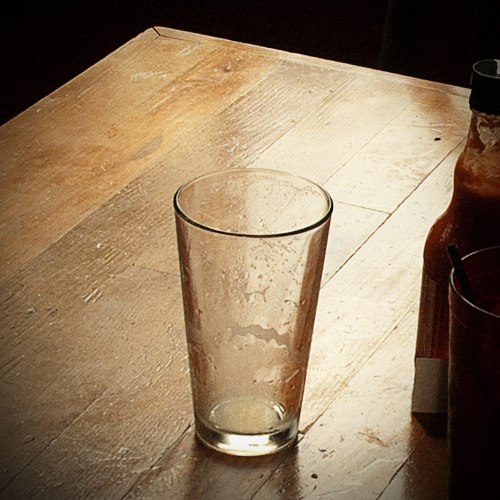 CB's Caged Alpha Monkey
After doing a bit of digging, I found out that Caged Alpha Monkey is an IPA from Custom Brewcrafters in Honeoye Falls, NY, outside of Rochester.
Nose: Hoppy, with some piney sharpness
Taste: Piney hop. Tree sap. East Coast style bitter; not a lot of malt reward.
It was decent. Apparently I drank it too quickly for a picture.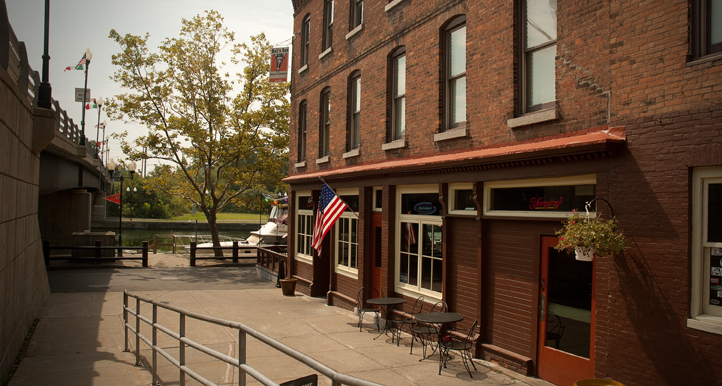 I have no idea how busy this place gets at night, but seems like a good local hangout with nice beers and food. It's right on the corner next to the bridge; you don't go in the front, but rather down the steps or ramp on the left to the actual entrance. The old timey guy painted on the wall points the way with his cane. It's down by the canal/ river/ whatever it is and there's an outdoor patio. It was another muggy CNY day, so we opted for the air conditioning indoors away from the old, mustachioed, shirtless men drinking by the water. Put some clothes on, Old Man River. Your tan lines are making me lose interest in life. We finished our pizza and drinks, and set off for an afternoon of further wine adventures.