This is Part Five of an ongoing series chronicling the Grand Beercation of July 2011. To start at Part One, click here.


The Farmhouse
A lovely night for the beer garden.


Following the suggestions from our 3 Needs bartender, the Lady Friend and I strolled over to The Farmhouse, and rather than sit in the noisy bar/dining area, decided to sit in the outdoor beer garden bar area behind the building. It was about 8pm at this point, and the evening light was starting to dim, while the strands of lights in the beer garden glowed yellow. It was purty.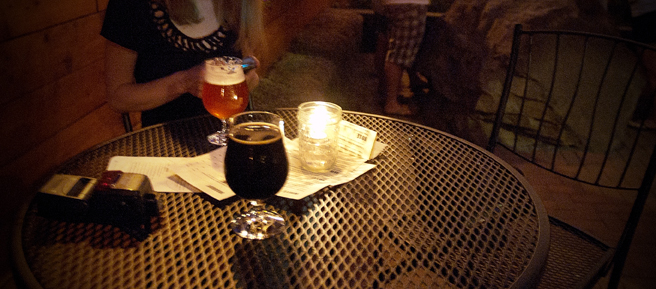 Once again, I didn't make the best of beer decisions for my mood, and went with the Long Trail Brewmasters' Series Coffee Stout, thinking it would be the opposite of hoppy bitter, and would be suitable for my tired taste buds. At 8% abv, it's a big boy. Very tasty… chocolate with a touch of bitter roasted flavor, but without that syrupy, viscous mouthcoat you get with some other big or imperial stouts. I couldn't tell you what Lady Friend was drinking, but she had caught a second wind and went for another round. I nursed the stout and did some people watching. I'm a photographer… it's ok.




There was cowboy hat/ striped polo shirt combo dude…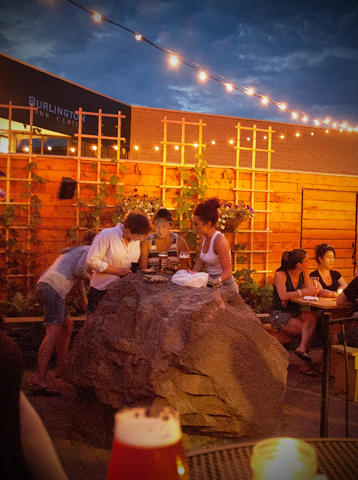 …and a group of girls who were having a BLAST hanging out, squealing, and pinching each other around the large boulder in the corner of the patio. Which I was totally ok with.


Not pictured: the two prowling cougars, who sauntered in dressed in all their white vinyl and 6″ heeled glory, sniffed the air a couple times as they peered across the deck, then retreated back to the indoor bar with its dimmer, and perhaps more flattering, light in search of easier prey. There isn't a picture because I hadn't applied my cougar repellent before we went out, so I was sure to sit perfectly still, as their vision is based on movement.


Those were the amusing characters. However, the rest of the crowd seemed a bit too frat-douchy for my taste. I saw way too many popped polo collars, plaid shorts and flip flops. Only one case of Sunglasses-at-Night syndrome. I was pretty much done, and ready for air conditioning.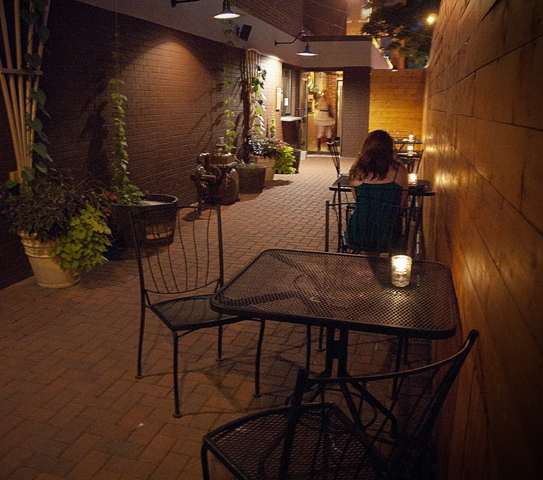 Overall, the Farmhouse was great. I can't speak to the food, but it was steadily busy in the dining room for the couple of hours we spent there. The indoor bar was also busy, but the beer garden offered a relaxing alternative to the crowd. I don't know if people didn't know it was there, or if they were just hoping to get pounced on by an indoor cougar, but it worked out quite well for us, as we were able to enjoy our drinks outside on a warm summer evening. The beer list (outside) wasn't terribly long, but did have some impressive offerings. A more extensive list is available at the main bar, but we made do with the beer garden varieties.


This was our last stop in Burlington, and after a ride back to the hotel driven by a very talkative and amusingly-opinionated Italian cab driver, we hit the sheets in preparation for a journey north across the border, Drink Destination: Montreal.