My current Lady Friend has come to share in my interest of cocktails. She's a tequila gal, which leaves my whisky splendidily available for my sole consumption. Over the course of our time together, I have been encouraging her to start a small home bar of her own. Due to a lack of space, it had to be compact and simple, with the bare essentials. A bamboo serving tray on her kitchen countertop now houses bottles of reposado tequila, rye whisky, brandy, and triple sec (for that unquenchable Margarita thirst she's developed after being weaned off of plastic handle mixto tequila). The proper equipment has been more of a process, with citrus press and Hawthorn strainer acquired, but a proper Boston shaker still proving elusive. True, through the interwebs one might be found easily, but when it costs more to ship an item than the purchase price totals, it's a bit disheartening.
Fortunately, the ever-growing cocktail movement has spawned The Boston Shaker, a wonderful cocktail supply store in Somerville, MA, just out of Davis Square. I had been meaning to check it out for some time, and here was a perfect excuse. Knowing we'd be in the area, I rang up a nearby liquor store in the off-chance that they were in possession of one of my favorite whiskies: Rittenhouse.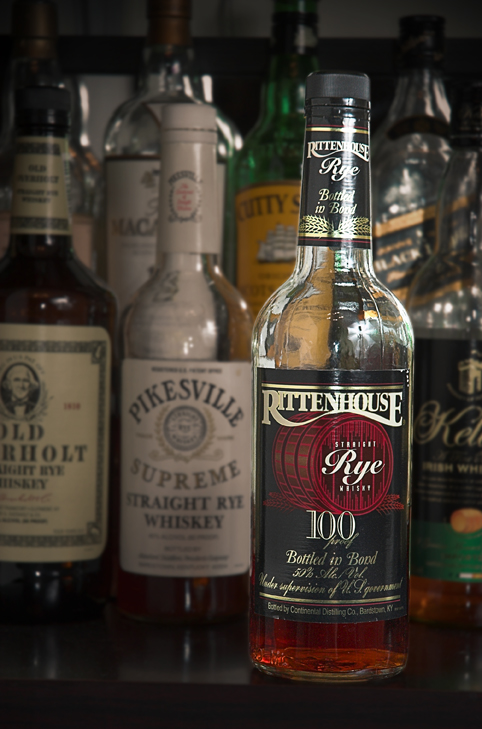 Rittenhouse Rye Whiskey is 100-proof straight rye, and carries the term "bottled in bond" meaning that it has been aged and bottled under the supervision of the U.S. Government. This is a mostly outdated term, and was originally put in place to assure the consumer that the whisky was the real deal, not blinding rotgut. Rittenhouse Rye is one of the few left who still adhere to this, and though they allegedly make an 80-proof version (which I've never been able to find), the 100-proof bottled in bond version is simply amazing.
…or rather it would be amazing if I could get my hands on it. Several years ago after searching many local liquor stores, the Holy Grail was found: one bottle at one store for ~$20. It was emptied entirely too quickly, and I needed another fix. Unfortunately, Rittenhouse seems to only release their new batch around September, and that was months away. Since then, I've haunted that store every fall waiting for the new bottles to come in. My latest bottle came as a gift from a friend, an Irish Lad who I've put on Rittenhouse Watch Status, keeping an eye out whenever he's shopping for himself. As it happens, he and his wifey were down in Delaware for a family function and scored a bottle of my precious.  It has served me well, though once we dip past the halfway mark, the rationing begins. Which brings us to a Saturday afternoon phone call, as a bored drawl dripping with a complete lack of concern clashed with my over-enthusiastic queries:
"Uh, hi, do you have Rittenhouse Rye?"
"Yup"
"Really??'
"Yup"
"The 100-proof??"
"Yup"
"… Faaaaantastic!"
I turned to the Lady Friend, "We have to go. NOW."
I hurled her little Corolla (named "Phantom" after its Phantom Grey paint) up 93 to the fustercluck that is Cambridge on a Saturday. After inching through Harvard Square hitting every possible red light on Mass Ave, we finally arrive to do battle in the parking lot of the plaza for any available space. Fortunately, a space was procured with little bloodshed, and I fastwalked to the doorway, burst in and beelined directly to the whisky. The legends were true: five glowing amber bottles of my precious were crouched on the shelf …with a brand new $30 price tag. My plans of procuring dual bottles for a private reserve stash are vaporized, as I cradled the single bottle I could justify to my bank account. At the counter, I mentioned my dismay and the same languid voice from the phone slurred "Yup. We're the only ones in town who have it. Prices went up. Supply and demand." Curse you capitalist swine!
After passing the world along to Irish Lad that the fabled bottle is in stock, Lady Friend and I head towards Davis for our original destination: the Boston Shaker. Just past Orleans restaurant (Irish Lad's spouse, Wifey was in a tv commercial of theirs, pretending to laugh on a date, though she laments that the drinks used on set weren't real) on Holland Street is the odd little shop with a window full of various cocktail glasses. Though the space is small, it is a cocktailer's happy place, with shakers and strainers, exotic tiki syrups, recipe books, bitters and OH MY GOD WHISKEY BARREL BITTERS.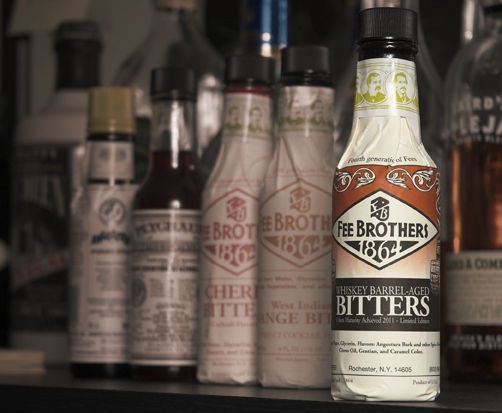 Fee Brothers, a company based in Rochester, NY, has a varied line of cocktail bitters, including their elusive whiskey barrel-aged variety. They take their normal Old-Fashioned style, and age them in charred oak whiskey barrels. While I was having a mild seizure, the shop girl remarked "We just got those in. You should get them." These do not last on the shelves. The barrel aged bitters are released yearly in limited quantities, and once they're gone, that's it.
Though the price tag read $14, I had to have them. Lady Friend got her new shaker tin, knowing we'd track down a mixing glass elsewhere, and I chatted with the shop girl about my intentions for a Rittenhouse Manhattan with my new bitters that night. At the mention of the Rittenhouse, she froze, and I passed along the info of my recently-purchased bottle's origins. Muttering at her watch "…two hours left, damn." she thanked me and vowed to head straight there after her shift.
After a stop to browse the wonderfully-priced selections at Atlas Liquors (often the best value I've seen in the area), we headed for home laden with our bounty: Lady Friend purchased a handle of El Jimador blanco for Margaritas aplenty, while I snagged a small bottle of Martini & Rossi sweet vermouth for myself. Finally in the shelter of my manpartement, it was time.
The $50 Manhattan from Heaven
– 2oz Rittenhouse Rye ($30)
– 1oz Martini & Rossi Rosso sweet vermouth ($6)
– Three liberal dashes of Fee Bros Whiskey Barrel-Aged bitters ($14)
Stir. Strain. Serve.
The spicy 100-proof rye snaps at your tongue and pulls a woolen sweater over your brain. Sweet vermouth polishes the rough edges and the barrel-aged bitters reek of cinnamon warmth. Worth every penny; you can buy happiness.