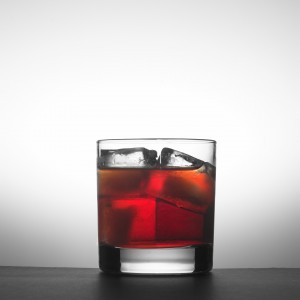 My first Negroni.
– 1.5oz Hendricks gin
– 1.5oz Martini & Rosso sweet vermouth
– 1.5oz Campari
Stir in chilled old fashioned glass. Garnish with orange peel.


I'm not a great lover of gin, but I'm making an effort to be civil. We get along fine in front of others, but have very little to speak about one-on-one.  However, the Negroni is undeniably classic, so I push forward. Initial thoughts: warm, red, spicy. The Campari shines above all, but the gin is there. I'm banking on the bitterness to counter my overindulgence of barbecue chicken and onion pizza, though probably not the best of ideas about an hour before a tae kwon do workout. The sweet bitterness of Campari is really on show. Overall, I don't love it, I don't hate it. My usual feeling about lady gin.
I have recently done a bit of furniture swapping in my apartment, with the computer desk and bar changing places. Out of habit, I find myself rounding the corner to the computer, only to find it on my right flank. The bar needed expansion and will grow in its new home, but for now, I find the greatest inconvenience to be the lack of a place to put my drink while at the keyboard.